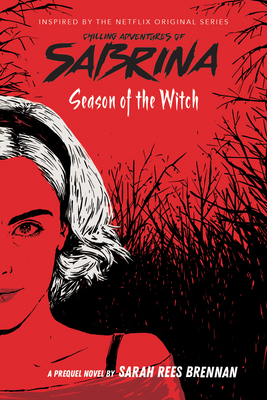 Season of the Witch (The Chilling Adventures of Sabrina, Book 1)
Paperback

* Individual store prices may vary.
Other Editions of This Title:
Paperback, Spanish (1/30/2020)
Description
From the creator of Riverdale comes the Chilling Adventures of Sabrina, a new Netflix eries based on the classic Archie comic series. This prequel YA novel tells an all-new, original story.
It's the summer before her sixteenth birthday, and Sabrina Spellman knows her world is about to change. She's always studied magic and spells with her aunts, Hilda and Zelda. But she's also lived a normal mortal life -- attending Baxter High, hanging out with her friends Susie and Roz, and going to the movies with her boyfriend, Harvey Kinkle.

Now time is running out on her everyday, normal world, and leaving behind Roz and Susie and Harvey is a lot harder than she thought it would be. Especially because Sabrina isn't sure how Harvey feels about her. Her cousin Ambrose suggests performing a spell to discover Harvey's true feelings. But when a mysterious wood spirit interferes, the spell backfires... in a big way.

Sabrina has always been attracted to the power of being a witch. But now she can't help wondering if that power is leading her down the wrong path. Will she choose to forsake the path of light and follow the path of night?

This exclusive prequel novel will reveal a side of Sabrina not seen on the new Netflix show. What choice will Sabrina make... and will it be the right one?
Praise For Season of the Witch (The Chilling Adventures of Sabrina, Book 1)…
Praise for the show:

"An enchanting confection brimming with pleasures supernatural and mundane, alluring and horrifying, aural and visual." -- Vulture

"A messy, gorgeous thrill ride... pure joyous horror." -- Vox

"Mad Men's Kiernan Shipka is a truly fearsome teen... she comes on like Joan of Arc crashing into a mastermix of Harry Potter and The Craft... This Netflix I-love-you-but-I've-chosen-darkness YA scream is more than just a great high-school horror trip. It proudly carries on 50 years of teenage witch tradition." -- Rolling Stone

"Chilling Adventures ends up being a surprisingly complex interrogation of power, aware both of the necessity of women claiming it and of the consequences that usually follow when that power is used for revenge... The portrait it offers of a teenager gaining supernatural abilities that help her 'topple the white patriarchy,' as she and her friends jokingly put it, is exhilarating." -- The Atlantic

"Netflix's new horror TV show is magical... a dark and spooky tale... the story of a girl stuck between two worlds." -- GameSpot
Scholastic Inc., 9781338326048, 288pp.
Publication Date: July 9, 2019
About the Author
Sarah Rees Brennan is the author of The Demon's Lexicon and Lynburn Legacy series; Tell the Wind and Fire and In Other Lands; and several collaborations with writers Cassandra Clare, Maureen Johnson, and Kelly Link. She lives in Ireland.