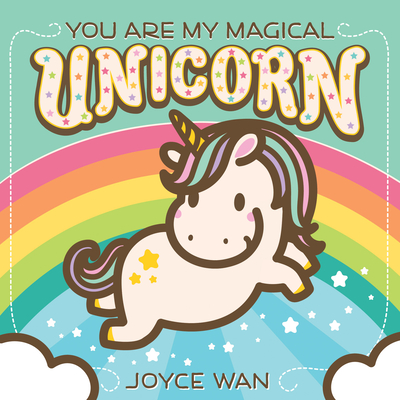 You are My Magical Unicorn (Novelty book)
Cartwheel Books, 9781338334104, 14pp.
Publication Date: December 26, 2018
* Individual store prices may vary.
Description
A sparkly ode to believing in yourself and perservance -- with a unicorn twist -- from bestselling creator Joyce Wan!
Sparkle and dazzle wherever you go. You're more amazing than you know!

Do you believe in magic? With Joyce Wan, the sky's the limit in this delightful, encouraging storybook featuring a lovable unicorn and an even more loving message of hope, persistence, and heart. And at the end of the story you can't help but snuggle up with your own magical unicorn to remind them that "Baby, I believe in you!"

A wondrous celebration of the magical spark in every child from today's preeminent board and picture book creator!
About the Author
Joyce Wan runs her own stationery and gift business, Wanart, which sells products in thousands of boutiques, museum shops, and gift stores worldwide. She is also the author and illustrator of many children's books, including You Are My Cupcake, We Belong Together, Are You My Mommy?, and Peek-a-Boo Farm. Joyce lives in Ridgewood, New Jersey, but you can visit her at wanart.com.
Praise For You are My Magical Unicorn…
Praise for Good Night, Sweetie:

"Wan excels at creating board books that combine irresistibly adorable cartoon graphics with text that channels intimate, lovey-dovey conversations between parent and child." -- Publishers Weekly


Praise for You Are My Merry Little Christmas:

"This board book helps little readers grasp that the true meaning of Christmas is the celebration of the ties that bind us." -- Kirkus Reviews


Praise for Peek-a-Boo Zoo:

"The warm, round illustrations provide a soothing tone, making this a perfect late-afternoon read right before naptime." -- Kirkus Reviews

"Working in her characteristic aesthetic of rounded, chunky shapes, Wan assembles a cute-as-can-be cast that includes a penguin, hippo, and more . . . A fun addition to the book-as-game category." -- Publishers Weekly


Praise for Are You My Mommy?:

"The book radiates warmth with soft curved lines used to form the characters and scenery. Distinct visual patterns add an extra dimension to each page." -- Kirkus Reviews


Praise for My Lucky Little Dragon:

"The bold, friendly animals pop off the page with energy." -- Kirkus Reviews


Praise for Hug You, Kiss You, Love You:

"The book maintains the chunky digital graphics of Wan's previous titles, and clever visual details are everywhere, from thematically patterned backgrounds of bones, waves, and leaves to the recurring heart elements incorporated into the animals." -- Publishers Weekly

"Simple, boldly outlined art, rests atop bright, patterned backgrounds, and the type is large and playful. An affectionate little book for preschoolers -- with glitter on the cover!" -- Booklist


Praise for We Belong Together:

"Manga-like characterizations and a chunky, hip design deliver the cuddly sentiment with panache." -- Publishers Weekly
b>Praise for Good Night, Sweetie:

"Wan excels at creating board books that combine irresistibly adorable cartoon graphics with text that channels intimate, lovey-dovey conversations between parent and child." -- Publishers Weekly


Praise for You Are My Merry Little Christmas:

"This board book helps little readers grasp that the true meaning of Christmas is the celebration of the ties that bind us." -- Kirkus Reviews


Praise for Peek-a-Boo Zoo:

"The warm, round illustrations provide a soothing tone, making this a perfect late-afternoon read right before naptime." -- Kirkus Reviews

"Working in her characteristic aesthetic of rounded, chunky shapes, Wan assembles a cute-as-can-be cast that includes a penguin, hippo, and more . . . A fun addition to the book-as-game category." -- Publishers Weekly


Praise for Are You My Mommy?:

"The book radiates warmth with soft curved lines used to form the characters and scenery. Distinct visual patterns add an extra dimension to each page." -- Kirkus Reviews


Praise for My Lucky Little Dragon:

"The bold, friendly animals pop off the page with energy." -- Kirkus Reviews


Praise for Hug You, Kiss You, Love You:

"The book maintains the chunky digital graphics of Wan's previous titles, and clever visual details are everywhere, from thematically patterned backgrounds of bones, waves, and leaves to the recurring heart elements incorporated into the animals." -- Publishers Weekly

"Simple, boldly outlined art, rests atop bright, patterned backgrounds, and the type is large and playful. An affectionate little book for preschoolers -- with glitter on the cover!" -- Booklist


Praise for We Belong Together:

"Manga-like characterizations and a chunky, hip design deliver the cuddly sentiment with panache." -- Publishers Weekly