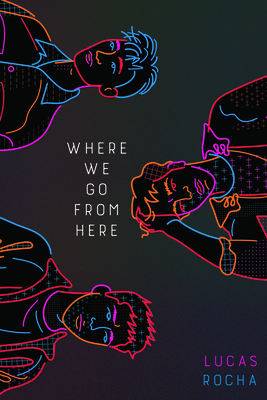 Where We Go From Here
Hardcover

* Individual store prices may vary.
Description
An absorbing debut novel about three gay friends in Brazil whose lives become intertwined in the face of HIV, perfect for fans of Adam Silvera and Bill Konigsberg.
Ian has just been diagnosed with HIV.

Victor, to his great relief, has tested negative.

Henrique has been living with HIV for the past three years.

When Victor finds himself getting tested for HIV for the first time, he can't help but question his entire relationship with Henrique, the guy he has -- had -- been dating. See, Henrique didn't disclose his positive HIV status to Victor until after they had sex, and even though Henrique insisted on using every possible precaution, Victor is livid.

That's when Victor meets Ian, a guy who's also getting tested for HIV. But Ian's test comes back positive, and his world is about to change forever. Though Victor is loath to think about Henrique, he offers to put the two of them in touch, hoping that perhaps Henrique can help Ian navigate his new life. In the process, the lives of Ian, Victor, and Henrique will become intertwined in a story of friendship, love, and self-acceptance.

Set in Rio de Janeiro, Brazil, this utterly engrossing debut by Brazilian author Lucas Rocha calls back to Alex Sanchez's Rainbow Boys series, bringing attention to how far we've come with HIV, while shining a harsh light on just how far we have yet to go.
Praise For Where We Go From Here…
"A remarkably honest story about love, lust, and HIV in today's world." --David Levithan, Lambda Award-winning author of Boy Meets Boy

"A powerfully honest book. Its raw and beautiful emotions will bring you to tears and leave you shouting with joy. A must-read." --Rachael Lippincott, New York Times bestelling author of Five Feet Apart

*"This debut seeks to tear down the social stigmas surrounding HIV, offering life-affirming scientific facts and addressing prejuidicial thinking. . . . At times explicity educational, this treatise on community provides comfort in an often homophobic world, with strong-willed drag queens; drunken, ecstatic nights; and blossoming lovers. Simply fearless." --Kirkus Reviews, starred review

*"The challenges of being HIV-positive in a soecity where that is regarded with opprobrium are adroitly presented in this Brazilian import. . . . Despite its Brazil-specific setting, the story is universal. More important, it fills an urgent need: novels featuring young adults who are HIV-positive are virtually absent from American YA fiction. . . . this deserves the widest possible readership." --Michael Cart, Booklist starred review

"An authentic, deeply felt debut, this book is chock-full of poignant conversation starters for book clubs and collections serving older teens." --School Library Journal

"This book will make your heart curl with pain, it will make your heart jump in excitement and romance, and it will make your heart hope for something." --The Nerd Daily

"This emotional read shows that already complicated relationships can become more complicated when HIV is involved, but that that diagnosis doesn't spell doom and gloom for the characters. Rocha lets his characters make mistakes, learn, fight, grow, change, accept, hurt, heal, and love. An educational, affirming story full of hope and love." --Teen Librarian Toolbox

"Effectively explores the tensions that stem from the prejudice and fear surrounding HIV." --Publishers Weekly
Push, 9781338556247, 288pp.
Publication Date: June 2, 2020
About the Author
Lucas Rocha is a librarian living in São Paulo, Brazil. He received his MS in information science from Fluminense Federal University in Rio de Janeiro, Brazil. Where We Go From Here is his first novel.