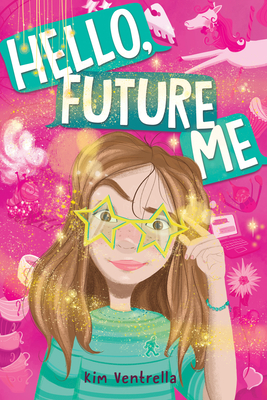 Hello, Future Me (Hardcover)
Scholastic Inc., 9781338576177, 272pp.
Publication Date: August 4, 2020
* Individual store prices may vary.
Description
Eleven-year-old June is a problem-solver. Some people might call her a busybody, but that's okay. Just look at all the couples she helped find love! (Grateful newlyweds Marlene and Big Vic have even promised June free hot chocolate for life at their café.)

However, when June learns that her parents are getting divorced, she has to face the fact that there are some problems too big even for her. At least, that's what the adults in her life keep saying.

But June's convinced there's a way to make her parents fall back in love. While brainstorming ideas on her new secondhand laptop -- purchased from a mysterious store in town called The Shop of Last Resort -- June gets a strange IM from someone named JuniePie28 . . . someone who claims to be an older version of June messaging her from the future.

At first, she assumes it's a prank. But JuniePie28 knows too much about June's life to be a fraud, and future June warns her against interfering with her parents' marriage. But June can't just sit around and watch her parents' marriage dissolve, not when there's a magical shop in town that could be the answer to all her problems! Will June prove her older self wrong and stop the divorce? Or will she have to accept that there are some things she can't control?
About the Author
Kim Ventrella spends her days searching for whimsy and wonder, even in the darkest of times. She is the author of Bone Hollow and Skeleton Tree, which Kirkus Reviews called an "emotional roller coaster tempered by a touch of magic." She lives in Oklahoma City, where her favorite activities include writing stories, working at a haunted house, and racing her dog in the rain.
Praise For Hello, Future Me…
Praise for Bone Hollow:

* "The novel has syrup-soaked, rich imagery that's a sensory delight . . . A heck of a good read about the bright side of some durn bad luck." -- Kirkus Reviews, starred review


Praise forSkeleton Tree:

"Skeleton Tree is a powerful and tender story. Kim Ventrella knows when to be playful and when to break your heart." -- Cassie Beasley, New York Times bestselling author of Circus Mirandus

"[An] emotional roller coaster tempered by a touch of magic and a resilient, likable protagonist." -- Kirkus Reviews

"Quietly powerful; dark yet whimsical . . ." -- Booklist