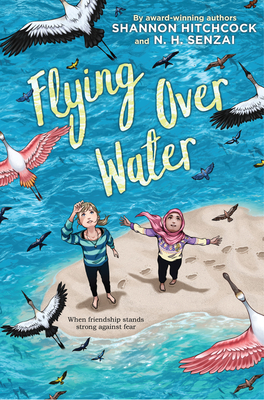 Flying Over Water
Hardcover

* Individual store prices may vary.
Description
N.H. Senzai and Shannon Hitchcock expertly craft the intersection of the lives of two girls-one, a Muslim fleeing civil war, the other, an American from the South-as they are forced to examine their beliefs and the true meaning of friendship in the midst of the president's 2017 Muslim ban.
Twelve-year-old Noura Alwan's family is granted asylum in the United States, after spending two years in a Turkish refugee camp, having fled war-torn Aleppo. They land in Tampa, Florida, on January 30, 2017, just days after the president restricted entry into the US from nations with a Muslim majority population.

Twelve-year-old Jordyn Johnson is a record-breaking swimmer, but hasn't swum well since her mom had a miscarriage during one of her meets. Her family has volunteered to help the Alwan family through their church. She knows very few people of Arab descent or who practice Islam.

The girls' lives intersect at Bayshore Middle School where Jordyn serves as the Alwan children's school ambassador. Noura knows that her family is safe from the civil unrest in her home country, but is not prepared for the adversity she now faces on American soil. Jordyn is sympathetic to Noura's situation, but there are other members of their Florida community who see the refugees' presence to be a threat to their way of life.While the president's Muslim ban tests the resolve and faith of many, it is friendship that stands strong against fear and hatred.

Award winners N.H. Senzai and Shannon Hitchcock have combined their talents to craft a heartrending Own Voices story told in dual perspectives.
Praise For Flying Over Water…
"Flying Over Water pushes us to examine, with tender hearts, the collision of lives in refuge and those struggling to understand how to be humane and compassionate during inhumane times. It is an essential read for building empathy and agency." - Aida Salazar, International Latino Book award-winning author of The Moon Within

Praise for N.H. Senzai:
Asian/Pacific American Award (APALA) for Young Adult Literature (SHOOTING KABUL)

"This hard-hitting, emotionally nuanced first novel views the experiences of a family of Afghan refugees....Though cultural, religious, and political pressures persist, the satisfying surprise ending offers...hope and redemption."--Publishers Weekly (SHOOTING KABUL)

*"Filled with kindness and hope, but also with the harsh realities of the horrors of war, this heartbreaking book is a necessary reminder of what many people live through every day."--Booklist, starred review (ESCAPE FROM ALEPPO)

Praise for Shannon Hitchcock:
*"A heartening and important offering for younger readers." --Booklist, starred review (RUBY LEE & ME)

*"Hitchcock unflinchingly characterizes the emotional struggles of being young and lesbian....A compelling and honest addition to the few existing stories about gay middle schoolers." --Kirkus Reviews, starred review (ONE TRUE WAY)
Scholastic Press, 9781338617665, 272pp.
Publication Date: October 20, 2020
About the Author
N.H. Senzai is the author of Shooting Kabul, which was critically acclaimed and on numerous award lists. Publishers Weekly called it "hard hitting, emotionally wrenching." Her second book, Saving Kabul Corner, was nominated for an Edgar Award. She is also the author of Ticket to India and Escape from Aleppo. Ms. Senzai lives in the San Francisco Bay Area with her family. Visit her online at NHSenzai.com.

Shannon Hitchcock is the author of ONE TRUE WAY, which received a starred review from Kirkus. The critically acclaimed RUBY LEE & ME was a nominee for the 2017-2018 Nebraska Chapter Book Golden Sower Award, Pennsylvania's Keystone Award, Iowa's Children's Choice Award, Japan's Sakura Medal, and Alaska and Montana's Battle of the Books. She divides her time between Tampa, Florida, and Hendersonville, North Carolina. For more, visit her website at shannonhitchcock.com.



Andrea Davis Pinkney and Brian Pinkney have made an outstanding contribution to the field of children's literature both as individuals and as a team. Between them, they have published more than 70 children's books that have received the highest awards and accolades, including Caldecott Honors, Coretta Scott King Honors, NAACP Image Award nominations, and the May Hill Arbuthnot Honor Lecture Award, to name a few. To learn more, please visit andreadavispinkney.com and brianpinkney.net.