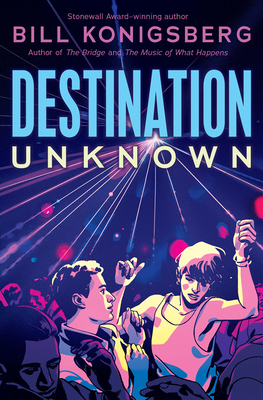 Destination Unknown
Hardcover

* Individual store prices may vary.
Description
From Stonewall Award winner Bill Konigsberg, a remarkable, funny, sexy, heartbreaking story of two teen boys finding each other in New York City at the height of the AIDS epidemic.
The first thing I noticed about C.J. Gorman was his plexiglass bra.
So begins Destination Unknown -- it's 1987 in New York City, and Micah is at a dance club, trying to pretend he's more out and outgoing than he really is. C.J. isn't just out -- he's complete out there, and Micah can't help but be both attracted to and afraid of someone who travels so loudly and proudly through the night.
A connection occurs. Is it friendship? Romance? Is C.J. the one with all the answers... or does Micah bring more to the relationship that it first seems? As their lives become more and more entangled in the AIDS epidemic that's laying waste to their community, and the AIDS activism that will ultimately bring a strong voice to their demands, whatever Micah and C.J. have between them will be tested, strained, pushed, and pulled -- but it will also be a lifeline in a time of death, a bond that will determine the course of their futures.
In Destination Unknown, Bill Konigsberg returns to a time he knew well as a teenager to tell a story of identity, connection, community, and survival.
Praise For Destination Unknown…
Praise for The Bridge:
A Junior Library Guild Selection
"The Bridge swept me up and swept me along, and made me forget everything but this book, this book, this book. A powerful, honest, heart-tugging, nail-biting, so-real-it-reaches-into-your-bones story about suicide and mental health and the ways in which too many of us struggle alone. Except we're not alone. Bill Konigsberg makes that beautifully, movingly clear. Stunning." -- Jennifer Niven, New York Times bestselling author of All the Bright Places
"An incredibly meaningful look into the lives-and deaths-of two teens struggling with thoughts of suicide. Compulsively readable and astonishingly important, Aaron and Tillie's storywill stay with you for a long time after you've turned the last page." -- Brigid Kemmerer, New York Times Bestselling Author of Letters to the Lost
* "Konigsberg's approach underscores depression's coercive power and the gifts of human connection, and he sharpens a universal story by populating it with distinctly individual characters." -- Publishers Weekly, starred review
* "With each narrative thread focusing on Aaron or Tillie, along with brief vignettes highlighting the lives of those they are close to, Konigsberg (The Music of What Happens, 2019) constructs an intricate tale brimming with questions and possibilities. Messy, complicated, and sometimes alarmingly candid, this is a poignant, sincere look at the many ways mental illness affects young people, as well as those they know and love." -- Booklist, starred review
"A heartbreaking bridge into depression supported by a strong foundation of hope." -- Kirkus Reviews
Praise for The Music of What Happens:
* "Konigsberg demonstrates once again why he is one of the major voices in LGBTQ literature." -- Booklist, starred review
* "Give to fans of Benjamin Alire Sáenz's Aristotle and Dante Discover the Secrets of the Universe and Laurie Halse Anderson's Speak. A first purchase for public and high school libraries." -- School Library Journal, starred review
"The result is a story with imperfect characters who are, refreshingly, called out on problematic behaviors and aim to do better. A fresh addition to the menu of queer teenage love stories." -- Kirkus Reviews
"Konigsberg explores how conventional ideas about masculinity trap young men into believing they must act a certain way... A fun, romantic, and moving novel." -- Publishers Weekly
"Readers seeking an unusually thoughtful gay-positive romance will find this moving." -- The Bulletin of the Center for Children's Books
"This book offers an interesting perspective on growing up and coming-of-age by crafting two main characters who offer unique points of view for an often underserved audience. This is a much-needed book in every high school library." -- School Library Connection
"With The Music of What Happens, Bill Konigsberg serves up a profound examination of masculinity, consent, and relationships through the eyes of two of the most endearing narrators I've ever read. Jordan and Max are vulnerable, sweet, funny, and flawed. Teens, hether they identify as LGBTQIA+ or not, are lucky to have this book in their lives." -- Shaun David Hutchinson, author of We Are the Ants
"The Music of What Happens is a compelling, laugh-out-loud story, as swoon-worthy as it is deeply affecting. Max and Jordan grabbed hold of my heart from the moment I met them and I don't see them letting go any time soon. Konigsberg has a way of making me see the world -- and food trucks! -- a little differently." -- David Arnold, New York Times bestselling author of Mosquitoland and The Strange Fascinations of Noah Hypnotik
"Bill Konigsberg has a way of creating characters that could be your next door neighbor, your best friend, or that cute boy who once helped you change a flat tire. Max and Jordan will find their way into your heart, and after the last page, you'll regret that they aren't real. Once you start reading The Music of What Happens, you won't be able to stop." -- Brigid Kemmerer, author of Letters to the Lost
Scholastic Inc., 9781338618051, 304pp.
Publication Date: September 6, 2022
About the Author
Bill Konigsberg is the author of six books for young adults, which have won awards including the Stonewall Book Award, the Sid Fleischman Award for Humor, and the Lambda Literary Award. Bill lives with his husband, Chuck, and their two Labradoodles, Mabel and Buford. Please visit him online at billkonigsberg.com and @billkonigsberg.