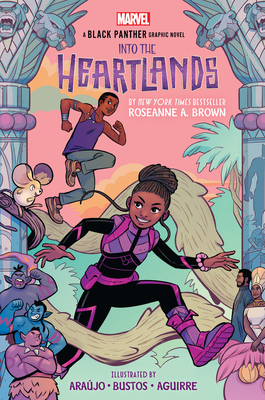 Shuri and T'Challa
Into the Heartlands (An Original Black Panther Graphic Novel)
Paperback

* Individual store prices may vary.
Other Editions of This Title:
Hardcover (5/3/2022)
Description
Shuri and T'Challa set out to remove a curse from Wakanda in this action-packed, totally original graphic novel!
Twelve-year-old Shuri is a lot of things. Scientist. Princess. All around cooler person than her pain-in-the-butt big brother, T'Challa. Shuri knows she could do so much more to help Wakanda, but everyone is obsessed with the prince because he's the next Black Panther. That is, until Soul Washing Day, one of the most important rituals of Wakandan society.
When an argument between T'Challa and Shuri leads to one of Shuri's inventions accidentally destroying the sacred ceremony site, chaos reigns instead of prosperity. Suddenly the people of Wakanda, including her mother the queen, are becoming sick! Could this be a curse from the ancestors? Desperate to save her mother, Shuri dives into research and finds an answer hidden deep in an ancient children's myth. It may be nothing more than a fantasy, but with the sickness spreading each day, the young princess must trust her instincts and travel deep into the mysterious Heartlands to save her family and her kingdom.
Joining Shuri on her journey is none other than a meddling T'Challa. If Shuri and T'Challa can set aside their jealousy and resentment of each other long enough to survive this journey, they might just discover that they are far more powerful together than they could ever be apart. But if they can't face their fears in the Heartlands and lift the so-called curse, it may not be just the end for their family, but the end of Wakanda as they know it. No pressure, right?
Praise For Shuri and T'Challa: Into the Heartlands (An Original Black Panther Graphic Novel)…
Praise for Black Panther: Into the Heartlands
"While fans of classic superhero stories, especially those involving Black Panther, will appreciate the high-stakes action, inventive sci-fi technology, and cinematic artwork in a lush, full-color palette, this will also appeal to a broad range of middle grade readers who appreciate character-driven stories, world building centered on secrets, and the importance of honesty, communication, and understanding. Compelling as a stand-alone, but also a fantastic entry point for kids and tweens curious about the Black Panther universe." -- Booklist, starred review
Graphix, 9781338648058, 128pp.
Publication Date: April 19, 2022
About the Author
Natacha Bustos is a Spanish comic book artist who drew the story Going Nowhere, written by Brandan Montclare, for DC/Vertigo's Strange Sports Stories. Bustos then made her Marvel Comics debut on Spider Woman before re-teaming with Montclare and co-writer Amy Reeder on the inaugural run of Moon Girl & Devil Dinosaur, winner of Glyph Award for Best Female Character in 2016. In 2020, she drew the Buffy the Vampire: Willow miniseries (BOOM Studios!) and became part of Marvel's Stormbreakers Artist program, dedicated to spotlighting the next generation of elite artists.
Roseanne A. Brown was born in Kumasi, Ghana and immigrated to the wild jungles of central Maryland as a child. She graduated from the University of Maryland with a Bachelor's in Journalism and was also a teaching assistant for the school's Jiménez-Porter Writers' House program. Her journalistic work has been featured by Voice of America among other outlets. Rosie currently lives outside Washington D.C., where in her free time she can usually be found wandering the woods, making memes, or thinking about Star Wars. Her debut novel, A Song of Wraith and Ruin, was a New York Times bestseller.
DIKA ARAÚJO is a Brazilian animator, comic artist and illustrator based in Sâo Paulo. Her previous work includes several independent Brazilian anthologies, including Amor em Quadrinhos, which was nominated for the Angouleme International Comics Award in 2018.
Claudia Aguirre is a GLAAD and Eisner Award nominated artist and writer. She is co-founder of Boudika Comics. Her works include Hotel Dare (Boom!Studios), Morning in America (Oni Press) and Lost on PlanetEarth (Comixology Originals).