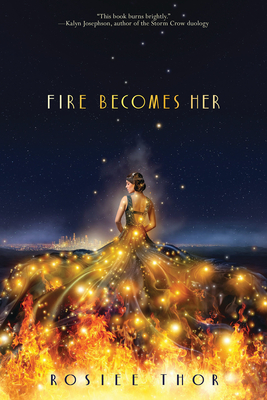 Fire Becomes Her
Hardcover

* Individual store prices may vary.
Other Editions of This Title:
Digital Audiobook (1/31/2022)
Description
In Rosiee Thor's lavish fantasy novel with a Jazz Age spark, a politically savvy teen must weigh her desire to climb the social ladder against her heart in a world where magic buys votes.
Flare is power.
With only a drop of flare, one can light the night sky with fireworks . . . or burn a building to the ground -- and seventeen-year-old Ingrid Ellis wants her fair share.
Ingrid doesn't have a family fortune, monetary or magical, but at least she has a plan: Rise to the top on the arm of Linden Holt, heir to a hefty political legacy and the largest fortune of flare in all of Candesce. Her only obstacle is Linden's father who refuses to acknowledge her.
So when Senator Holt announces his run for president, Ingrid uses the situation to her advantage. She strikes a deal to spy on the senator's opposition in exchange for his approval and the status she so desperately craves. But the longer Ingrid wears two masks, the more she questions where her true allegiances lie.
Will she stand with the Holts, or will she forge her own path?
Praise For Fire Becomes Her…
Praise for Fire Becomes Her:
"A candid exploration of wealth and politics, as well as the ways relationships and people bend and form under society's expectations. Replete with a tightly woven plot, a main character every bit as sharp and eloquent as Thor's writing, and a glittering Roaring Twenties vibe, this book burns brightly." --Kalyn Josephson, author of the Storm Crow duology
"This fiery story gripped me from the very first sentence. With gorgeous prose, an endearing group cast, and magic so vivid it crackles on the page, Fire Becomes Her will enchant you. A lush, vibrant fantasy." --Rachel Griffin, New York Times–bestselling author of The Nature of Witches
"Readers will revel in the glitz and allure of Fire Becomes Her. In a world where magic can be bottled and power sipped, Ingrid Ellis is burning with the desire to prove that she is more than a bootlegger's daughter. Full of political intrigue, a nuanced cast, and a fire-ocious heroine, Rosiee Thor's sophomore novel is as addictive and beautiful as flare itself." --Emily Lloyd-Jones, author of The Bone Houses
"A heady blend of intricate politics and addictive fantasy in a world where political power is reserved only for those with magic and old money. A vibrant examination of class and the consequences of privilege, Fire Becomes Her features one of the most satisfying morally gray main characters in years." --Linsey Miller, author of the Mask of Shadows duology
"With its exquisitely crafted characters, rich, evocative imagery, and tightly woven plot laced with political intrigue, Fire Becomes Her is both captivating and enthralling. Readers will love Ingrid and this vivid realm of fire and magic." --Carly Heath, author of The Reckless Kind
"A lush political fantasy with a delightful cast. The perfect read for anyone who likes watching ambitious girls set things on fire." --Mara Fitzgerald, author of Beyond the Ruby Veil
"Ambitious and heartbreaking, Fire Becomes Her flares brightly against the backdrop of speakeasies and political intrigue. Rosiee Thor weaves a lyrical and smoldering story about how the things that burn the brightest are the most beautiful . . . and the deadliest. A must-read for fans of Roshani Chokshi and Libba Bray!" --Ashley Poston, author of Among the Beasts & Briars
Praise for Tarnished Are the Stars
"A stunning debut by a brilliant new voice in YA, breaks your heart and fixes it again in all the best ways." --Beth Revis, New York Times bestselling author of Across The Universe
"Tarnished Are The Stars has everything my heart's been craving: rich world building, gorgeous writing, and a cast of queer characters getting the adventure they deserve. A stunning debut by a talented author who has only just begun." --Kass Morgan, New York Times bestselling author of The 100
"A heart-wrenching tale about found families, tender friendships, and a trio of characters you can't help but love." --Linsey Miller, author of the Mask of Shadows duology
"Fans of Marissa Meyer's Lunar Chronicles will enjoy this steampunk adventure starring a trio of queer teens from different social strata who are not just on a world-saving mission but are fearlessly and tenderly exploring the difference between legality and morality, discovering language for their identities, and challenging systems and perpetuators of oppression. Thor's debut would make an important and delightful addition to any collection." --Booklist
Scholastic Press, 9781338679113, 368pp.
Publication Date: February 1, 2022
About the Author
Rosiee Thor began her career as a storyteller by demanding to tell her mother bedtime stories instead of the other way around. She spent her childhood reading by flashlight in the closet until she came out as queer. She lives in Oregon with a dog, a cat, and an abundance of plants. She is the author of young adult novels Tarnished Are the Stars and Fire Becomes Her. Follow her online at rosieethor.com and on Twitter @rosieethor.