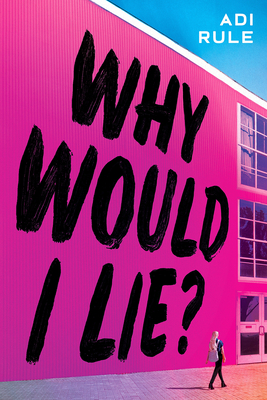 Why Would I Lie?
Hardcover

* Individual store prices may vary.
Description
A ripped-from-the-headlines thriller about a charismatic, mysterious valedictorian . . . and the only girl brave enough to try to bring him down.
Bitter. Angry. Paranoid.
It doesn't matter how you label Viveca North. Her focus is on academic excellence, not popularity. She's always tried her best to be perfect, and now that she's a senior, it's time for all her hard work to pay off. The early-morning runs. The constant studying. The peer tutoring. It will all be worth it when she's named valedictorian and finally granted admission to her dream school, the elite Everett College. Too bad Jamison Sharpe is trying to steal it from her….
Or is he? Jamison doesn't need to try to be perfect. Everything seems to come so easily to him. He's charming, funny, and has the ability to make anyone feel special. He has his pick of glowing college recommendations and his grades are flawless. Obviously Viveca is just jealous, right?
Viveca knows something is off about Jamison. But as she investigates his past, she seems to find a web of lies and deceit that she struggles even to fathom. The further she goes in her quest for the truth, the more impossible her own dreams become.
Will Viveca be able to take down her school's golden boy and reveal him as a fraud? Or will she—and what she believes—be silenced by labels?
In this twisty, suspenseful thriller Adi Rule weaves the unforgettable story of a girl who won't back down from what she knows she deserves.
Scholastic Press, 9781338736717, 336pp.
Publication Date: February 1, 2022