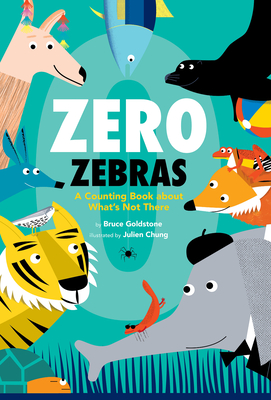 Zero Zebras
A Counting Book about What's Not There
Hardcover

* Individual store prices may vary.
Description
Discover the importance of counting what's there and what's not there in this brilliant picture book that combines math, imagination, and creativity, perfect for fans of Greg Tang!
Zero Zebras asks a bold question: can you count what isn't there? Can you count… to zero? Bruce Goldstone takes us on a wild animal safari counting one wallaby, two tuna, three thrushes, four frogs… but absolutely ZERO zebras. Readers will realize the infinite possibilities of counting what is and isn't on the page. Goldstone's imaginative and creative text is brought to life by Chung's vibrant illustrations which include hidden numbers beautifully integrated into each stunning scene for fun some hide-and-seek. This is the perfect introduction to the concept of zero and infinity, showcasing the profound wonder of numbers in a playful, dazzling picture book that will wow readers of every age!
Praise For Zero Zebras: A Counting Book about What's Not There…
Praise for Zero Zebras:
* "Another heady foray into math's conceptual reaches, with zero chance of failing to entertain." -- Kirkus Reviews, starred review
Praise for Awesome Autumn: All Kinds of Fall Facts and Fun:
*"One of the most comprehensive books about autumn available for kids. A solid choice for audiences of mixed ages... Wonderfully apropos pictures, solid information and sheer breadth are sure to make this an elementary-classroom staple." -- Kirkus Reviews, starred review
"Goldstone delivers a thorough overview of the season of autumn and what it entails in terms of the environment and weather, plants and animals, and human traditions and experiences... Encourage[s] kids to actively embrace the season with all their senses, and a list of fall activities carries that idea through to the end." --Publishers Weekly
"Will do well in the laps of or on the desks of the children who are reading it... This is a good reference book for young scholars who will love both the photos and the fun facts." -- School Library Journal
"Goldstone offers a richly varied view of autumn... which is sure to be popular with classroom teachers." -- Booklist
Praise for Great Estimations:
"With an appealing layout that lends itself equally well to browsing or curriculum support, this lively book would be an excellent addition." -- School Library Journal
"A model of how to do it right." -- The New York Times Book Review
Orchard Books, 9781338742244, 40pp.
Publication Date: August 2, 2022
About the Author
Over the past 25+ years, Julien Chung has created a lot of crazy characters for book publishers, art directors, and product designers around the world. He also designs pages and illustrates everything from superhero ducks to globe-trotting pigs for Montreal's French-language newspaper La Presse. When he's not drawing animals with hats, Julien enjoys collecting comics and hunting for flea market treasure. He and his wife live in Montreal, QC, with a lovebird named Cookie.
Bruce Goldstone writes educational books and is the author of several books, including
Wonderful Winter
,
Awesome Autumn
,
I See a Pattern Here
,
That's a Possibility!
,
100 Ways to Celebrate 100 Days
,
Great Estimations
,
Greater Estimations and The Beastly Feast
. He estimates that he has written more than 2,000,000 words. He lives in New York City. Visit him online at brucegoldstone.com and follow him on Instagram @brucegoldstonebooks.