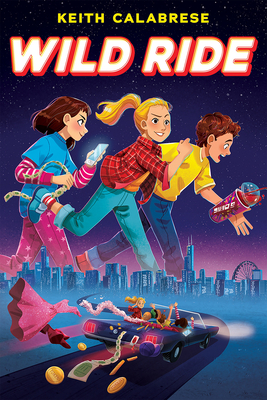 Wild Ride
Hardcover

* Individual store prices may vary.
Description
Swindle meets Ferris Bueller's Day Off in this action-filled comedy!
No parents. No rules. No curfew.
Things are about to get dangerous...
The grownups are out-of-town, and for Charley Decker that means one thing: a last epic weekend with her older brother Greg before he leaves for college. Bring on the burgers, milkshakes, and movie marathons!
So when Greg ditches Charley for a date night downtown, she's kind of crushed. Worse, he gets their mom's boyfriend's super-expensive, super-rare Mustang towed and needs Charley's help to get it back. What's an unsupervised seventh grader to do? Grab her best friends, sneak into the city, pull off the ultimate car heist, and then make Greg pay, of course!
Only now the Mustang has a new feature in the trunk: a stowaway named Mitch who's guarding a world-changing secret. And a pair of seriously big, seriously scary dudes are after him.
What follows is an all-night race around the clock as Charley and her friends try to dodge the twin terrors, save Mitch, fix a sibling squabble...and get the Mustang home before morning!
Praise For Wild Ride…
Praise for Wild Ride:
* "Pedal-to-the-metal fun, with moments both scary and triumphant to go with plenty of laugh-out-loud left turns." -- Kirkus Reviews, starred review
* "Calabrese's cinematic one-wild-night telling is chaotic and laugh-out-loud funny, but never at the expense of empathy and heart." -- Publishers Weekly, starred review
Praise for Connect the Dots:
* "There are plenty of surprises in this caper with heart." -- Kirkus Reviews, starred review
"Witty, assured, and full of heart, this book...is all sorts of fun." -- Wall Street Journal
"Calabrese is a gifted storyteller, adept at character building and dialogue in this tech-centric mystery." -- School Library Journal
Praise for A Drop of Hope:
"A promising first novel that delivers its own measure of hope." -- Booklist
"A story of friendship, character, and believing in good." -- School Library Connection
"Every so often, a book comes along that reminds us of what we are capable of as human beings. It reminds us that we really can grow into our best selves. This is one of those books." -- Gary D. Schmidt, Newbery Honor winner and author of Okay for Now
"Keith Calabrese has given us more than a drop of hope in this endearing novel; Ernest and Ryan and Lizzy not only make me want to move to the town of Cliffs Donnelly, their story has renewed my faith in humanity." -- Kirby Larson, Newbery Honor-winning author of Hattie Big Sky
"A Drop of Hope is a rapid-fire novel, wishing-well deep and rich with relatable characters all discovering that forging strong friendships, families, and communities takes hard work, empathy, and just a little bit of luck." -- John David Anderson, author of Mrs. Bixby's Last Day and Posted
Scholastic Press, 9781338743241, 256pp.
Publication Date: April 5, 2022
About the Author
Keith Calabrese is an author and screenwriter who holds a degree in creative writing from Northwestern University. A former script reader, he lives in Los Angeles with his wife, kids, and a dog who thinks he's a mountain goat.