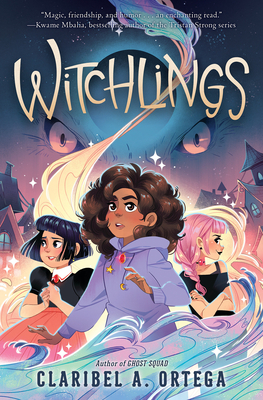 Witchlings
Hardcover

* Individual store prices may vary.
Description
A magical adventure for fans of Amari and the Night Brothers and Nevermoor, about three witchlings who must work together to do the impossible if they have any hope of earning their full powers.
Every year, in the magical town of Ravenskill, Witchlings who participate in the Black Moon Ceremony are placed into covens and come into their powers as full-fledged witches.
And twelve-year-old Seven Salazar can't wait to be placed in the most powerful coven with her best friend! But on the night of the ceremony, in front of the entire town, Seven isn't placed in one of the five covens. She's a Spare!
Spare covens have fewer witches, are less powerful, and are looked down on by everyone. Even worse, when Seven and the other two Spares perform the magic circle to seal their coven and cement themselves as sisters, it doesn't work! They're stuck as Witchlings—and will never be able to perform powerful magic.
Seven invokes her only option: the impossible task. The three Spares will be assigned an impossible task: If they work together and succeed at it, their coven will be sealed and they'll gain their full powers. If they fail... Well, the last coven to make the attempt ended up being turned into toads. Forever.
But maybe friendship can be the most powerful magic of all…
With action-packed adventure, a coven of quirky witchlings, Claribel A. Ortega's signature humor and girl-power vibes, this middle grade Latinx witch story is truly a modern classic.
Praise For Witchlings…
Praise for Claribel A. Ortega's Ghost Squad:
One of NPR's Best Books of 2020
A Good Morning America Summer Reading Squad pick
"Ghost Squad is a charming adventure full of girl power and heart. Young readers will want to be best friends with Lucely, Syd, and Chunk!" — Zoraida Córdova, author of The Way to Rio Luna and the Brooklyn Brujas series
"Ghost Squad manages to be both creepy and heartwarming, fulfilling a need for stories that are both deeply relatable and culturally specific. Highly recommended for kids looking for a spooky read, a whole lot of feelings, and a story they'll not soon forget." — Mark Oshiro, author of Anger is a Gift and The Insiders
* "A peppering of pop culture references—a nod to Ghostbusters, a clowder of cats named for Goonies characters—add humor, but it's the personal touches, such as Lucely's opinionated, ever-present ancestors; her dedication to those she loves; and an emphasis on Latinx food, love, and folklore, that gives this debut its distinctive spirit." — Publishers Weekly, starred review
"Dark humor, mystical vibes, and pop-culture references abound in this action-packed ghost hunt featuring... enchanted books, cryptic catacombs, and a coven of cats who are more than they appear. Shoutouts to Harry Potter, Ghostbusters, Hocus Pocus, The Goonies, and the like crop up continually as debut author Ortega expertly weaves a feel-good, phantasmagorical adventure that readers won't want to miss." — Booklist
"While it's undeniably a ghost story, Lucely's love for her family, both corporeal and spirit, carries the narrative, giving it warmth and depth. Readers will root for Lucely and Syd as they try to save St. Augustine and Lucely's cucuyos. A warmly spooky middle-grade debut." — Kirkus Reviews
"A fast-paced adventure rooted in Dominican mythology and packed with action, humor, and originality. Lucely and Syd's adventure gives readers paranormal thrills akin to Ghostbusters and The Goonies, from a refreshingly different cultural perspective." — School Library Journal
"A high energy yarn, interwoven with Dominican culture and mythology, that is pleasantly spooky with a Ghostbusters vibe that rarely falters. Readers will appreciate this lively entrée to supernatural literature." — Bulletin of the Center for Children's Books
"Ortega takes Hispanic folk traditions and weaves them into an artful narrative set in modern times. A recommended read for those who like ghostly adventures." — School Library Connection
"It's the Ghostbusters meets Jane the Virgin mashup we didn't know we needed." —Book Riot
Scholastic Press, 9781338745528, 304pp.
Publication Date: February 1, 2022
About the Author
Claribel A. Ortega is a former reporter who writes middle-grade and young adult fantasy inspired by her Dominican heritage. When she's not busy turning her obsession with eighties pop culture, magic, and video games into books, she's traveling the world for her day job in marketing and making GIFS for her small graphic design business, GIFGRRL. You can find her on Twitter @Claribel_Ortega and on her website at claribelortega.com.