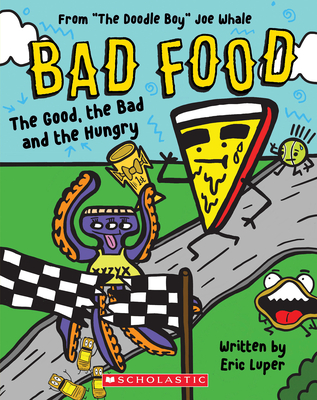 The Good, the Bad and the Hungry
From "The Doodle Boy" Joe Whale (Bad Food #2)
Paperback

* Individual store prices may vary.
Description
Slice, Scoop, and Totz -- the cafeteria food that came to life -- return to take on a new threat to Belching Walrus Elementary in this original series featuring the art of viral sensation Joe Whale, a.k.a. the Doodle Boy, and fan-favorite Eric Luper.After saving the pantry from the evil Baron Von Lineal, Slice, Scoop, and Totz are ready to kick back and relax. But when a new threat shows up in the halls of Belching Walrus, they'll have to spring from their seats and save the day -- all over again! This fun, imaginative series will spur the creativity of kids worldwide. Highly illustrated with big black-and-white pictures from Joe on every page, this series will be sure to resonate with kids worldwide!
Scholastic Inc., 9781338749267, 160pp.
Publication Date: March 1, 2022
About the Author
Joe Whale AKA the Doodle Boy is a ten-year-old boy from the UK whose artwork went viral after he was commissioned by a local restaurant to decorate an eight-foot wall. Since then, he has been interviewed by the Insider and appeared on Ellen Degeneres's Little Big Shots (hosted by Melissa McCarthy). He has also been sought after by corporate offices, hotels, and restaurants to fill their walls with his illustrations.
Eric Luper has written books for kids of all ages, including the YA novel Seth Baumgartner's Love Manifesto. He loves excitement and is always looking for his next adventure. Eric has fibbed his way into a tour of the ultra-secret PEZ headquarters, rebuilt a castle in France, explored the tunnels under Paris and Istanbul, escaped hungry crocodiles in Costa Rica, and rafted down the Colorado River. He lives with his family in Albany, New York.