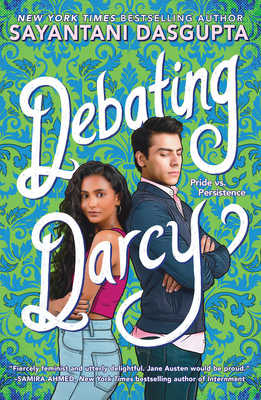 Debating Darcy
Hardcover

* Individual store prices may vary.
Other Editions of This Title:
Digital Audiobook (4/18/2022)
Paperback (3/7/2023)
Description
This Pride & Prejudice retelling brings New York Times bestselling Sayantani DasGupta's trademark wit and insight to her bright and funny YA debut!
It is a truth universally acknowledged that Leela Bose plays to win.
A life-long speech competitor, Leela loves nothing more than crushing the competition, all while wearing a smile. But when she meets the incorrigible Firoze Darcy, a debater from an elitist private school, Leela can't stand him. Unfortunately, he'll be competing in the state league, so their paths are set to collide.
But why attempt to tolerate Firoze when Leela can one-up him? The situation is more complicated than Leela anticipated, though, and her participation in the tournament reveals that she might have tragically misjudged the debaters -- including Firoze Darcy -- and more than just her own winning streak is at stake…her heart is, too.
Debating Darcy is bestselling author Sayantani DasGupta's reinterpretation of beloved classic Pride and Prejudice -- imaginative, hilarious, thought-provoking, and truly reflective of the complex, diverse world of American high school culture.
Praise For Debating Darcy…
"Studded with references to U.S. and South Asian pop culture as well as Jane Austen–related Easter eggs, DasGupta's astute, buoyant comedy of manners employs witty, rat-a-tat dialogue alongside social commentary about subjects including classism, colorism, and sexism."—Publishers Weekly, starred review
"Refreshing….A provocative, humorous and relevant modernization of the classic that inspired it."—Shelf-Awareness
"While prior knowledge of Pride and Prejudice isn't a prerequisite, it will certainly add to readers' amusement and enjoyment of this cleverly conceived romance."—Booklist
"New York Times bestselling author Sayantani DasGupta makes her YA debut with a brilliant Bengali Pride and Prejudice retelling centering around the world of high school speech and debate."—BookRiot
"Class, colorism, and the complicated nature of South Asian American identity are explored, while the scandal at the heart of the book has been updated in a realistic way that gives young women space to speak up and fight back…A delight."—Kirkus Reviews
"Fiercely feminist and utterly delightful. Jane Austen would be proud."—Samira Ahmed, New York Times bestselling author of Internment
"A charming and witty retelling, unlike any other!"—Adiba Jaigirdar, author of The Henna Wars and Hani and Ishu's Guide to Fake Dating
"One thing isn't up for debate: readers will swoon for Debating Darcy!"—Tiffany Schmidt, author of the Bookish Boyfriends series and I'm Dreaming of a Wyatt Christmas
"Debating Darcy delivers a brilliantly diverse cast of characters who make up the Bennet sibling world and DasGupta superbly explores what class and social mobility mean in America today as well as sexuality and the #MeToo movement."—Soniah Kamal, award-winning author of Unmarriageable: Pride and Prejudice in Pakistan
Scholastic Inc., 9781338797695, 320pp.
Publication Date: April 19, 2022
About the Author
Sayantani DasGupta is the New York Times bestselling author of the critically acclaimed, Bengali folktale and string theory-inspired Kiranmala and the Kingdom Beyond books, the first of which -- The Serpent's Secret -- was a Bank Street Best Book of the Year, a Booklist Best Middle Grade Novel of the 21st Century, and an E. B. White Read Aloud Honor Book. She is also the author of Debating Darcy, a contemporary young adult reimagining of Jane Austen's Pride and Prejudice. Sayantani is a pediatrician by training, but now teaches at Columbia University. When she's not writing or reading, Sayantani spends time watching cooking shows with her trilingual children and protecting her black Labrador retriever Khushi from the many things that scare him, including plastic bags. She is a team member of We Need Diverse Books, and can be found online at sayantanidasgupta.com and on Twitter at @sayantani16.