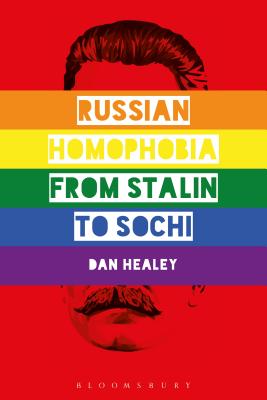 Russian Homophobia from Stalin to Sochi (Hardcover)
Bloomsbury Academic, 9781350000780, 310pp.
Publication Date: December 14, 2017
Other Editions of This Title:
Paperback (12/14/2017)
* Individual store prices may vary.
Description
Examining nine 'case histories' that reveal the origins and evolution of homophobic attitudes in modern Russia, Dan Healey asserts that the nation's contemporary homophobia can be traced back to the particular experience of revolution, political terror and war its people endured after 1917.
The book explores the roots of homophobia in the Gulag, the rise of a visible queer presence in Soviet cities after Stalin, and the political battles since 1991 over whether queer Russians can be valued citizens. Healey also reflects on the problems of 'memorylessness' for Russia's LGBT (lesbian, gay, bisexual and transgender) movement more broadly and the obstacles it faces in trying to write its own history. The book makes use of little-known source material - much of it untranslated archival documentation - to explore how Russians have viewed same-sex love and gender transgression since the mid-20th century.
Russian Homophobia from Stalin to Sochi
provides a compelling background to the culture wars over the status of LGBT citizens in Russia today, whilst serving as a key text for all students of modern Russia.
About the Author
Dan Healey is Professor of Modern Russian History at the University of Oxford, UK. He is the author of Homosexual Desire in Revolutionary Russia: The Regulation of Sexual and Gender Dissent (2001) and Bolshevik Sexual Forensics: Diagnosing Sexual Disorder in Clinic and Courtroom, 1917-1939 (2009). He is also the editor of Soviet Medicine: Culture, Practice, Science (2010), with F. Bernstein and C. Burton, and Russian Masculinities in History and Culture (2002), with B. Clements and R. Friedman.