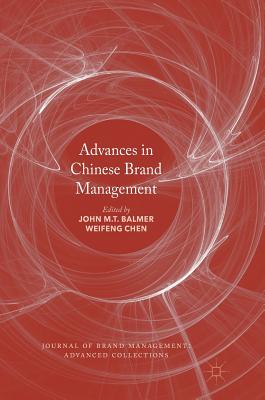 Advances in Chinese Brand Management (Journal of Brand Management
Advanced Collections)
Hardcover

* Individual store prices may vary.
Other Editions of This Title:
Paperback (6/29/2018)
Description
Section 1: Introdution (Balmer JMT and Chen WF).- Section 2: China's Brands and Corporate Brand Communications in China: In Context.- Balmer, JMT. and Chen, W. 'China's brands, China's brand development strategies and corporate brand communications in China'.- Section 3: Corporate Heritage Brands in China.- Balmer, John MT, and Weifeng Chen.) "Corporate heritage brands in China. Consumer engagement with China's most celebrated corporate heritage brand-Tong Ren Tang: 同仁堂." .- Schroeder, Jonathan, Janet Borgerson, and Zhiyan Wu. "A brand culture approach to Chinese cultural heritage brands.".- Section 4: Luxury Brands in China.- Heine, Klaus, and Michel Gutsatz. "Luxury brand building in China: Eight case studies and eight lessons learned.".- Peng. N and Chen, AH "Consumer perspectives of cultural branding: The case of Burberry in Taiwan.- Section 5: Managing the brand name and logo.- Dong, L. C. and Helms, M.M. Brand name translation model: A case analysis of US brands in china.- Schmitt, Bernd, and Shi Zhang."Selecting the right brand name: An examination of tacit and explicit linguistic knowledge in name translations.".- Chen, T. Ma K, Zheng, C and Wang H "The effects of sub-brands and brand name structure on extension evaluation: An empirical study based on Chinese culture".- Section 6: Brand Building in China.- Sun, Qin, and Audhesh Paswan. "Country branding through Olympic Games.".- Na, and Fang Wan. "A configurational perspective of branding capabilities development in emerging economies: The case of the Chinese cellular phone industry.".- Tang Y-C. Liou F_M, and Peng S-y B2B brand extension to the B2C market-The case of the ICT industry in Taiwan.- Section 7: Brand Buying Behaviour in China .- Lin, Z., and He, X. The images of foreign versus domestic retailer brands in China: A model of corporate brand image and store image.- Yu, C., and Bastin, M. Hedonic shopping value and impulse buying behavior in transitional economies: A symbiosis in the mainland china marketplace.- Bian, X., and Veloutsou, C. Consumers' attitudes regarding non-deceptive counterfeit brands in the UK and China
Palgrave MacMillan, 9781352000108, 354pp.
Publication Date: November 24, 2016
About the Author
John M.T. Balmer is Professor of Corporate Marketing at Brunel Business School, London, UK, and quondam Professor of Corporate Brand/Identity Management at Bradford School of Management, UK. Credited with formally introducing the corporate brand notion in 1995, since the early 1990s he has been a leading proponent of the strategic importance of corporate identity and corporate brands. He has published numerous cornerstone articles in leading journals relating to corporate brands and corporate marketing. He is the Chairman of the Board of Senior Consultant editors of the Journal of Brand Management; founder of the International Corporate Identity Group (ICIG) and founder and Chairman of the International Symposium on Corporate Heritage. Weifeng Chen is a lecturer at Brunel University Business School, London, UK, where he specialises in international businesses and branding, with a particular interest in the management of Chinese brands. Dr Chen has published in a number of international journals including Journal of Organizational Change Management, Journal of Information System Management and International Journal of Knowledge Management Studies. He is a member of the China-Britain Business Council (CBBC) and currently serves as a consultant for a number of Chinese enterprises.