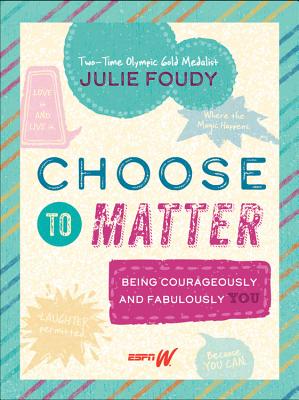 Choose to Matter (Hardcover)
Being Courageously and Fabulously YOU
ESPNW, 9781368003384, 304pp.
Publication Date: May 2, 2017
* Individual store prices may vary.
Description
In Choose to Matter, Julie Foudy, two-time Olympic Gold Medalist and former captain of the US National team, takes you on a journey to discover your authentic self. This book is a roadmap to unleash that courageous YOU and have you singing your dreams out loud. Along with sharing stories from her playing days and personal experiences, Julie taps into the wisdom of other incredible female leaders including "Good Morning America" anchor Robin Roberts, soccer stars Mia Hamm and Alex Morgan, and Facebook superwoman and Lean In founder Sheryl Sandberg. In her Leadership Academy, Julie encourages young women to find the leader that exists in all of them, whatever their personality or vocal chord strength might be. Complete with fun exercises and activities, Choose to Matter guides readers in all aspects of their lives. Julie believes every young woman has the power to be a leader who makes a positive impact. And it all starts by choosing to matter. So go ahead, start now. Because you can.
About the Author
Julie Foudy is a retired American professional soccer midfielder who played for the United States women's national soccer team from 1987 through 2004. Julie participated in four Women's World Cups and three Olympics for the USA Team. She is a two-time World Cup Champion and she is also a 1996 Olympic Gold Medalist, 2000 Olympic Silver medalist and 2004 Olympic Gold medalist. She was inducted into the US National Soccer Hall of Fame in 2007.
Julie's work off the field is even more important to her. She was the President of the Women's Sports Foundation from 2000-2002. She served on the Women's Sports Foundation Board of directors for seven years.
Julie is the director and founder of the Julie Foudy Leadership Academy, a unique residential camp experience that uses sports as a vehicle to teach leadership skills for life. Julie also founded the Julie Foudy Leadership Foundation whose mission is: Building on a foundation of sports and fitness, we empower young women from all socioeconomic backgrounds to become leaders who positively impact their communities.
Julie is currently a reporter and analyst for ABC/ESPN, contributor and writer for espnW, motivational speaker, and proud mother of two children.
Twitter: @juliefoudy
Instagram: @juliefoudy