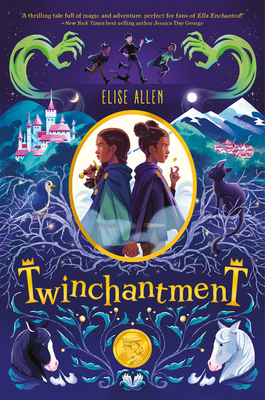 Twinchantment (Twinchantment Series #1)
Hardcover

* Individual store prices may vary.
Other Editions of This Title:
Paperback (3/3/2020)
Description
In the kingdom of Kaloon, nothing is quite as it seems....
"Y-y-y-you," he stammered, and Flissa turned to see he'd gone ashen. "T-t-t-two of you!"Uh-oh. Flissa reached up and checked. Sure enough, her hood had fallen off. Their secret was out.
Princesses Flissa and Sara are even closer than most twins. In fact, most of the kingdom thinks they're the same person.
When magic was outlawed in Kaloon generations ago, twins, black cats, and other potentially -magical beings were outlawed, too. Since they were born, Flissa and Sara have pretended to be one princess, Flissara, trading off royal duties like attending glamorous balls, participating in fencing exhibitions, and making friends with other young nobles, all while hiding in plain sight.
But when the first magical attack in years puts their mother's life in danger, the girls must break the rules that have protected them to save her. Enlisting a brave servant boy and his plucky black kitten as their guides, they set off on an epic quest to the Twists-a forbidden place full of dark magic-to find the evil mage who cursed the queen. With a case of mistaken identity, a wickedly powerful exile out for vengeance, and time running out for their mother, the twins might just need to make their own magic to save the day.
In the first book of this new series, author Elise Allen brings to life a fantastical world filled with high-stakes adventure, incredible twists, and all the spark and humor of sisterhood.

Praise For Twinchantment (Twinchantment Series #1)…
"A thrilling tale full of magic and adventure, perfect for fans of Ella Enchanted!"—New York Times best-selling author Jessica Day George

"A bubbly series start with strong characterizations, high appeal, and some thoughtful commentary."—Booklist

"Heartwarming tale... [a] series opener with an enduring feel."—Publishers Weekly

"The plot moves along quickly with twists, turns, and surprises that will keep readers engaged and eager for the next chapter... Colorful detail and complicated characters will leave readers eager for the next installment."—School Library Journal

"Full of surprises... Wonderfully told."—The Denver Post

"There's magic on every page, and not just of the spellcasting variety. Twinchantment is a fun, exhilarating, and heartwarming story about finding strength in family... and in being yourself."—Zack Loran Clark & Nick Eliopulos, authors of The Adventurers Guild series

"Twinchantment is nothing short of TWINCHANTING! A magical, action-paced, girl power adventure through a fantastically imagined fantasy kingdom. The surprising twists in the tale will keep readers guessing till the very end and leave them hungry for book two."—Mari Mancusi, author of The Camelot Code: The Once and Future Geek

AccoladesPublishers Weekly: New Kids' and YA Books: Week of April 8, 2019, selectionYAYOMG!: YAYBOOKS! Here's What You Should Read in April 2019, selection
Disney-Hyperion, 9781368008624, 336pp.
Publication Date: April 9, 2019
About the Author
Emmy-nominated writer and New York Times best-selling author Elise Allen made a name for herself with her acclaimed young adult novel Populazzi. She also cowrote Hilary Duff's best-selling Elixir series, as well as Bella Thorne's series, Autumn Falls. She is a longtime television writer, with credits including The Lion Guard, Rainbow Rangers, and Abby Hatcher Fuzzly Catcher. Most excitingly, her middle grade series Gabby Duran and the Unsittables, cowritten with Daryle Conners, is currently in production as a TV series on Disney Channel. You can find Elise on Twitter @EliseLAllen.