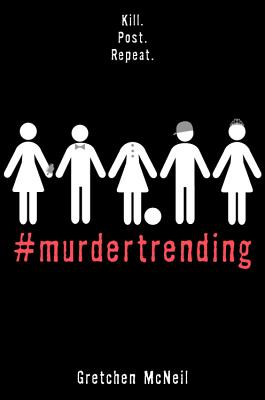 #MurderTrending (Hardcover)
Freeform, 9781368010023, 352pp.
Publication Date: August 7, 2018
Other Editions of This Title:
Hardcover (8/6/2019)
Paperback (8/4/2020)
Paperback (7/9/2019)
* Individual store prices may vary.
About the Author
Gretchen McNeil is the author of I'm Not Your Manic Pixie Dream Girl and the Don't Get Mad duology, as well as the YA horror novels Possess, 3:59, Relic, and Ten which was a 2013 YALSA Top Ten Quick Pick for Reluctant Young Adult Readers and was adapted as the Lifetime original movie Ten: Murder Island in 2017. You can find her online at www.GretchenMcNeil.com, on Instagram @Gretchen_McNeil, and on Twitter @GretchenMcNeil.
Praise For #MurderTrending…
"McNeil has written a compelling story that cleverly mixes dystopian, survivalist, and mystery genres together... Give to fans of action, mysteries, and Saw-esque tricks and traps."—
Booklist
"The fast-paced action will appeal to fans of The Hunger Games... A gory thriller that moves at breakneck speed, this book will be hard to put down for older teens with a penchant for horror."—
School Library Journal
"The bloodthirsty, reality-TV-obsessed culture and the corrupt government sponsoring the show [closely] mirror our own world. The provocative message... translates, powerfully, and centering Dee and her fellow inmates in this twisty, gory story ultimately serves as a sharp indictment of our flawed judicial system."—
Entertainment Weekly
"#MurderTrending is an edge-of-your-seat, heart-pounding thriller...[An] inventively gory, regularly humorous and extremely suspenseful novel."—
Shelf Awareness
"In this biting satire of reality shows and today's U.S. political atmosphere... McNeil... offers a tense, fast-paced tale that balances gore... pop culture, and dark comedy."—
Publishers Weekly
"A campy ride through an all-too-familiar and twisted world that will keep you guessing."—
Mindy McGinnis, author of YALSA Top 10 Best YA Fiction of 2016 The Female of the Species
"#MURDERTRENDING is a slick, sharp, darkly comedic thrill ride. #AMustRead."—
Lamar Giles, Edgar Award Nominated author of Fake I.D.
"McNeil's talent for creating an enticing plot paired with heart-pounding pacing shines in her latest."—
BuzzfeedAccolades
Top Ten YALSA Quick Picks Title
Barnes & Noble: Best Young Adult Books of 2018 (selection)
Brightly Teen: 18 of the Most Exciting YA Books to Read in 2018 (selection)
GoodReads: Most Popular Books Published in August 2018 (selection)
Seventeen Magazine: The 20 Best YA Books of 2018 (selection)
EpicReads: The 18 Most Anticipated YA Books to Read in August, 2018 (selection)
Refinery29: The Ultimate YA Beach Reads of 2018 (selection)
Hypable: The August 2018 YA book releases that need to be on your to-read list (selection)
BNTeen: Welcome Freshmen: New Releases: Criminals Go Viral, Robin Hood Gets Retold, and What's Lost is Found (2018, selection)
Paste: 10 of the Best Young Adult Books of August 2018 (selection)
BNTeen: August's Best New Teen Books (2018, selection)
BNTeen: 15 YA Books to Read After Loving HBO's Sharp Objects (2018, selection)
Seventeen.com: The 22 Best YA Books of 2018, selection
BuzzFeed: 23 YA Books That You'll Absolutely Want to Pick Up This Fall (2018, selection)
Bustle: 13 Politically-Charged Horror Novels To Motivate You To Fight The Real Monsters (2018, selection)