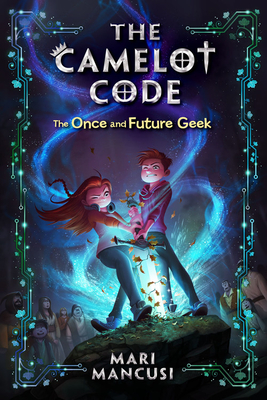 The Camelot Code, Book #1 The Once and Future Geek (The Camelot Code, Book #1) (Hardcover)
Disney-Hyperion, 9781368010849, 352pp.
Publication Date: November 20, 2018
Other Editions of This Title:
Paperback (9/3/2019)
Paperback (5/27/2014)
* Individual store prices may vary.
Description
When young Arthur of Camelot accidentally time-travels to the 21st century and Googles himself, he discovers the not-so-happily ever after in store for him once he pulls the sword from the stone. Yes, he'll go from squire to sovereign basically overnight, but he'll also lose the love of his life to his best friend and eventually die in battle. What's a once-and-future king to do? Easy: stay in the future, where he'll actually have a future-and join the football team instead.
Now, with the help of the great wizard Merlin, modern-day gamer-geeks Sophie and Stu find themselves in a race against time to get that sword pulled from the stone and the stubborn soon-to-be-king Arthur back to the past where he belongs. Complicating the plan? Lady Morgana-Arthur's sister and greatest enemy-has traveled to the future as well, determined to take Arthur out and seize the throne. Can Sophie and Stu use their gaming abilities to defeat the evil Morgana and set the timeline right? With the very existence of their friendship, their families, and the world as they know it (including pepperoni pizza!) at stake, they'll use every skill, power-up, and cheat code they know in their quest to save the day.
About the Author
Mari Mancusi always wanted a dragon as a pet. Unfortunately, the fire insurance premiums proved a bit too large and her house a bit too small, so she chose to write about them instead. As a former Emmy award winning TV news producer, she now works as a full time author, having published over two dozen books for kids, teens, and adults. When not writing, Mari enjoys traveling, cosplay, watching cheesy (and scary) horror movies, and playing videogames. A graduate of Boston University, she lives in Austin, Texas, with her husband, Jacob, daughter, Avalon, and their two dogs. Visit her at marimancusi.com or follow her @marimancusi.
Praise For The Camelot Code, Book #1 The Once and Future Geek (The Camelot Code, Book #1)…
"Cinematic and epic in scale... A delightfully unexpected amount of detail from Arthurian lore... Fast-paced, downright fun novel. Certainly not the first retelling of the King Arthur legend, this start to a promising series is not only cleverly plotted but also has enough unique elements to elevate if from the rest."—
Booklist
"Impeccably incorporates contemporary and video-game elements into the original King Arthur story, creating an enjoyable and seamless narrative."—
Publishers Weekly
"A wholesome, modern twist on the classic legend that could provide a gateway for newer readers and fun for the gaming set."—
Kirkus Reviews
"Dashes of romance, bullying, social anxiety, family stresses, commentary on middle school social structure, and bits of history and Arthurian lore all combine to create a though-provoking adventure story... Blending elements of several genres, this story will be appealing to many different types of readers."—
School Library Journal
"Imagine
The Sword in the Stone
with a dash of
Freaky Friday
and a pinch of
World of Warcraft
--this funny, fast-paced adventure is chicken soup for the geek's soul."—
Zack Clark and Nick Eliopulos, authors of The Adventurers Guild
"Arthurian legends just leveled up in this hilariously geeky, modern, and clever take on The Sword in the Stone.
A Connecticut Yankee in King Arthur's Court
meets
Ready Player One
for the middle-grade set."—
Julie Leung, author of The Mice of the Round Table series
"Boys and girls will ditch their video games and be sucked into the delightful world of (future) King Arthur and his unlikely saviors, Sophie and Stu. An absolute delight!"—
Jen Calonita, author of the Fairy Tale Reform School series
"A highly imaginative twist on the legend of King Arthur, complete with time travel, programming, and fierce friendships, THE CAMELOT CODE is the perfect pick for tweens who love medieval lore and geek culture in equal measure!"—
Christina Soontornvat, author of The Changelings seriesAccolades
YAYBOOKS!: November 2018 Roundup, selection (2018)
Writers' Rumpus: Six MG and YA Reads for 2019, selection
Geek Dad: Stack Overflow: Getting Serious About Series, selection (2019)