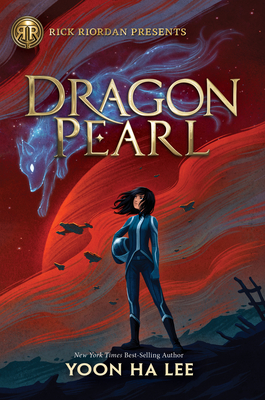 Rick Riordan Presents Dragon Pearl (A Thousand Worlds Novel, Book 1)
Hardcover

* Individual store prices may vary.
Other Editions of This Title:
Digital Audiobook (1/14/2019)
Paperback (1/7/2020)
Library Binding, Large Print (2/6/2019)
Description
Best-selling author Rick Riordan presents Yoon Ha Lee's space opera about thirteen-year-old Min, who comes from a long line of fox spirits.

But you'd never know it by looking at her. To keep the family safe, Min's mother insists that none of them use any fox-magic, such as Charm or shape-shifting. They must appear human at all times.

Min feels hemmed in by the household rules and resents the endless chores, the cousins who crowd her, and the aunties who judge her. She would like nothing more than to escape Jinju, her neglected, dust-ridden, and impoverished planet. She's counting the days until she can follow her older brother, Jun, into the Space Forces and see more of the Thousand Worlds.

When word arrives that Jun is suspected of leaving his post to go in search of the Dragon Pearl, Min knows that something is wrong. Jun would never desert his battle cruiser, even for a mystical object rumored to have tremendous power. She decides to run away to find him and clear his name.

Min's quest will have her meeting gamblers, pirates, and vengeful ghosts. It will involve deception, lies, and sabotage. She will be forced to use more fox-magic than ever before, and to rely on all of her cleverness and bravery. The outcome may not be what she had hoped, but it has the potential to exceed her wildest dreams.

This sci-fi adventure with the underpinnings of Korean mythology will transport you to a world far beyond your imagination.

Endorsed by Rick Riordan, author of Percy Jackson and the Olympians, soon to be a series on Disney+.
Praise For Rick Riordan Presents Dragon Pearl (A Thousand Worlds Novel, Book 1)…
"I was so impressed by DRAGON PEARL. The story is multi-layered, the world construction is impeccable--with an awesome intersection of tech and culture--and it is totally compelling to read. Min's nuanced feelings about her magic, her family, and her fox heritage are marvelously complicated. I loved her, and I know you will, too!"—E.K. Johnston, author of the #1 New York Times best-selling Ahsoka

"Lee has a knack for world-building. His richly detailed, cohesive, original vision is a lively mash-up of outer-space sci-fi and Korean culture and folklore."—Horn Book Magazine

"The Korean-mythology-in-space setup is great fun, with supernatural beings and ghosts aplenty, spaceships that run on technological and spiritual energy combined, an entire planet populated by ghosts, and bountiful space hijinks and derring-do."—Bulletin of the Center for Children's Books

"Who would have thought Korean mythology would make for such an intense and magical space opera! I loved every moment of it and want the next book NOW so I can explore all the Thousand Worlds with Min! This book is brilliant and gorgeous, and why didn't I have it when I was a kid??"—Ellen Oh, author of Spirit Hunters and the Prophecy series

*"Lee has created an adrenaline-filled space opera with mythological creatures living alongside humans. It is refreshing to see both Koran elements and a nonbinary character seamlessly integrated into the storyline. A high-octane, science-fiction thriller painted with a Korean brush and a brilliant example of how different cultures can have unique but accessible cosmology and universal appeal."—Kirkus Reviews (starred review)

*"Lee offers a perfect balance of space opera and Korean mythology with enough complexity to appeal to teens."—Publishers Weekly (starred review)

*"Lee skillfully weaves Korean folklore into this space opera narrative, creating dynamic and relatable characters. VERDICT: With ghosts, pirates, and a rollicking space adventure, there's a little something for everyone here."—School Library Journal (starred review)
Rick Riordan Presents, 9781368013352, 320pp.
Publication Date: January 15, 2019
About the Author
Yoon Ha Lee (yoonhalee.com) is the author of several critically acclaimed short stories and the Machineries of Empire trilogy for adults: NINEFOX GAMBIT, RAVEN STRATEGEM, and REVENANT GUN. Yoon draws inspiration from a variety of sources, e.g. Korean history and mythology, fairy tales, higher mathematics, classic moral dilemmas, and genre fiction. Yoon's Twitter handle is @deuceofgears.