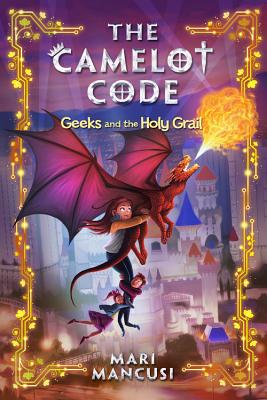 Geeks and the Holy Grail (The Camelot Code #2) (Hardcover)
Little, Brown Books for Young Readers, 9781368014779, 368pp.
Publication Date: October 1, 2019
* Individual store prices may vary.
Description
Time travel, dragons, and saving the world? Sophie and Stu's spring break just got epic!
Sophie is now a Camelot Companion, tasked with protecting the spirit of King Arthur throughout the ages, so it's no surprise when she and Stu get sucked in to another Arthurian adventure. This time, the two best friends must get the Holy Grail into King Arthur's hands so he can drink from it and recover from a deadly illness. Simple, right?
Not so much. Because Merlin's apprentice, Emrys, has accidentally turned the Grail into a gassy, fire-breathing baby dragon. And Merlin is the only one who can change it back. But Merlin's on spring break in modern-day Las Vegas (at the Excalibur, of course). And Sophie's super-popular (not to mention super-annoying) future stepsister, Ashley, has invited herself along for the ride. From sneaking a baby dragon through airport security to the ultimate showdown with the sorceress Morgana, deep in the land of Faerie, this new Camelot Code adventure will test not only the two geeks' courage, but also their very friendship.
Don't miss a single moment of the action in this exciting sequel to The Camelot Code #1: The Once and Future Geek!
About the Author
Mari Mancusi always wanted a dragon as a pet. Unfortunately, the fire insurance premiums proved a bit too large and her house a bit too small, so she chose to write about them instead. As a former Emmy Award-winning TV news producer, she now works as a full-time author, having published over two dozen books for kids, teens, and adults. When not writing, Mari enjoys traveling, cosplay, watching cheesy (and scary) horror movies, and playing video games. A graduate of Boston University, she lives in Austin, Texas, with her husband, Jacob, daughter, Avalon, and their two dogs. Visit her at marimancusi.com or follow her @marimancusi.
Praise For Geeks and the Holy Grail (The Camelot Code #2)…
PRAISE FOR THE ONCE AND FUTURE GEEK

"Cinematic and epic in scale... A delightfully unexpected amount of detail from Arthurian lore... Fast-paced, downright fun novel. Certainly not the first retelling of the King Arthur legend, this start to a promising series is not only cleverly plotted but also has enough unique elements to elevate if from the rest."—Booklist

PRAISE FOR THE ONCE AND FUTURE GEEK

"Impeccably incorporates contemporary and video-game elements into the original King Arthur story, creating an enjoyable and seamless narrative."—Publishers Weekly