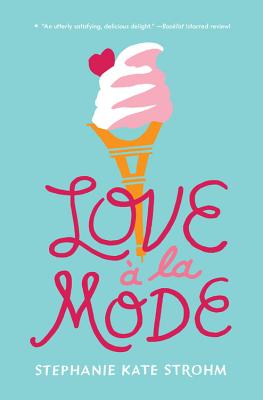 Love à la Mode (Hardcover)
Disney-Hyperion, 9781368019040, 336pp.
Publication Date: November 27, 2018
Other Editions of This Title:
Paperback (10/1/2019)
* Individual store prices may vary.
Description
Take two American teen chefs, add one heaping cup of Paris, toss in a pinch of romance, and stir. . . .
Rosie Radeke firmly believes that happiness can be found at the bottom of a mixing bowl. But she never expected that she, a random nobody from East Liberty, Ohio, would be accepted to celebrity chef Denis Laurent's school in Paris, the most prestigious cooking program for teens in the entire world. Life in Paris, however, isn't all cream puffs and crepes. Faced with a challenging curriculum and a nightmare professor, Rosie begins to doubt her dishes.
Henry Yi grew up in his dad's restaurant in Chicago, and his lifelong love affair with food landed him a coveted spot in Chef Laurent's school. He quickly connects with Rosie, but academic pressure from home and his jealousy over Rosie's growing friendship with gorgeous bad-boy baker Bodie Tal makes Henry lash out and push his dream girl away.
Desperate to prove themselves, Rosie and Henry cook like never before while sparks fly between them. But as they reach their breaking points, they wonder whether they have what it takes to become real chefs.
Perfect for lovers of Chopped Teen Tournament and Kids Baking Championship, as well as anyone who dreams of a romantic trip to France, Love à la Mode follows Rosie and Henry as they fall in love with food, with Paris, and ultimately, with each other.
About the Author
Stephanie Kate Strohm is also the author of Prince in Disguise; The Date to Save; It's Not Me, It's You; The Taming of the Drew; Confederates Don't Wear Couture; and Pilgrims Don't Wear Pink. She works as an actress and teacher in Chicago. You can find her online at www.stephaniekatestrohm.com and on Twitter and Instagram @stephkatestrohm.
Praise For Love à la Mode…
*"Strohm's delectable novel perfectly captures the mania of food obsession... and her descriptions of food are salivatingly good. The snappy banter and camaraderie among the rich cast of well-rounded characters crackles, and the halting, awkward romantic tension between Rosie and Henry simmers tantalizingly through every page. It's got the lighthearted, cinematic pace of a rom-com... An utterly satisfying, delicious delight."—
Booklist
"The story is infused with such joy and love--and delectable dishes--that readers will simply gobble it up whole. Like a souffle: bright, frothy, and entirely delicious."—
Kirkus Reviews
"Stephanie Kate Strohm has created a hilarious cast of characters and a romance sweeter than all the pastries in Paris.
Love a la Mode
is deliciously swoony!"—
Lauren Morrill, author of Meant to BePRAISE FOR PRINCE IN DISGUISEAccolades:
BNTeen's Best YA Rom Coms of 2017
A Romantic Times Top Pick of 2017
Accolades
BNTeen: Our Most Anticipated Contemporary YA Novels of 2018: July to December (selection)
Bustle: 11 Upcoming Romantic YA Novels That Might Just Be Your new Favorite Rom-Com, 2018 (selection)
BookRiot: 125+ Upcoming YA Books You'll Want on Your October to December Radar, selection (2018)
BNTeen: 21 of November's Best New Young Adult Books, selection (2018)
Amazon: Best Young Adult Books of the Month, selection (December 2018)
EpicReads: 22 YA Romance Books for the Perfect New Year's Eve, selection (2018)
BNTeen: 12 New and Upcoming YAs That Are Perfect for Valentine's Day, selection (2019)
"
Love la Mode
is a sugar-coated confection that satisfied all my cravings for travel, swoony romance, and pastries. Lots and lots of pastries! Readers will adore the sweet story of Rosie, Henry, and the magic of Paris."—
Crystal Cestari, author of The Best Kind of Magic series
"
Love la Mode
combines the best of French cooking and French kissing. I was enchanted by Strohm's funny, thoughtful characters and their Parisian adventures. Sign me up for Chef Laurent's cole!"—
Tiffany Schmidt, author of the Bookish Boyfriends seriesPRAISE FOR PRINCE IN DISGUISE
"
Prince in Disguise
is the perfect winter getaway in book form. Readers will enjoy every minute of this hilarious holiday read...The setting is magical... Strohm writes incredibly fun and quirky characters... Readers won't want the story to end."—
Romantic Times Book Reviews
"The plot moves along well, and the supporting characters are diverse and intriguing... The discussion of food and cooking is engaging, and the Parisian setting adds to the charm... Food lovers will eat this up. A good choice for romance shelves."—
School Library Journal