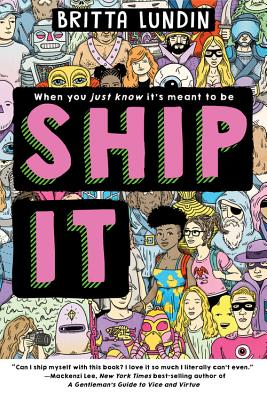 Ship It (Paperback)
Freeform, 9781368021159, 384pp.
Publication Date: May 7, 2019
Other Editions of This Title:
Hardcover (5/1/2018)
* Individual store prices may vary.
Description
"Can I ship myself with this book?...
I love this book so much I literally can't even."
-Mackenzi Lee, New York Times bestselling author of A Gentleman's Guide to Vice and Virtue
Claire is a sixteen-year-old fangirl obsessed with the show
Demon Heart
. Forest is an actor on
Demon Heart
who dreams of bigger roles. When the two meet at a local Comic-Con panel, it's a dream come true for Claire. Until the Q&A, that is, when Forest laughs off Claire's assertion that his character is gay. Claire is devastated. After all, every last word of her super-popular fanfic revolves around the romance between Forest's character and his male frenemy. She can't believe her hero turned out to be a closed-minded jerk. Forest is mostly confused that anyone would think his character is gay. Because he's not.
Definitely not
.
Unfortunately for Demon Heart, when the video of the disastrous Q&A goes viral, the producers have a PR nightmare on their hands. In order to help bolster their image within the LGBTQ+ community-as well as with their fans-they hire Claire to join the cast for the rest of their publicity tour. What ensues is a series of colorful Comic-Con clashes between the fans and the show that lead Forest to question his assumptions about sexuality and help Claire come out of her shell. But how far will Claire go to make her ship canon? To what lengths will Forest go to stop her and protect his career? And will Claire ever get the guts to make a move on Tess, the very cute, extremely cool fanartist she keeps running into?
About the Author
Britta Lundin is a TV writer, novelist, and comic book writer. She currently writes on the hit CW show Riverdale. A longtime fanfiction reader and writer, she can track her life milestones by what she was shipping at the time. Originally from the Pacific Northwest, she now lives with her wife and their lime tree in Los Angeles. Follow her on Twitter @brittashipsit.
Praise For Ship It…
"Lundin... effortlessly speaks the language of conventions, fandom, and social media... Escapist fun. Skillfully interwoven are explorations of media representation and the line between fan and creator... This ship does more than just sail--it soars."—
Kirkus Reviews
"This debut charmingly explores fan culture, internalized perspectives, and the importance of representation."—
BooklistAccolades
Seventeen.com: The 20 Best YA Books of 2018 (selection)
BuzzFeed: Here are 31 YA Books You Should Absolutely Read This Spring (selection)
"
Ship It
punches you right in the feels. Britta Lundin gives us a story about the OTPs we want--and the ones we need. I ship it. #SmokeHeartForever."—
Ashley Poston, author of Geekerella
"Much like its indefatigable fangirl heroine, SHIP IT is by turns prickly and charming, tender, vulnerable and brave. As smartly savvy as it is deeply heartfelt: this is the book that fandom has been waiting for, and the lived-in, fleshed-out portrait it deserves."—
Zan Romanoff, author of Grace and the Fever
"I can't stop smiling about this book--a winsome, emotionally rich joyride through the parallel worlds of fame and fandom and self-discovery. This is the perfect story for our current moment, as vibrant and funny as it is thoughtful and political, and packed so full of heart that it made mine skip a few beats. SHIP IT is utterly irresistible."—
Riley Redgate, author of Noteworthy
"A love letter to fandom and to anyone who wished the world could be a gayer place. I stan for Britta Lundin!"—
Maggie Thrash, author of Honor Girl
"Can I ship myself with this book? Britta Lundin captures the heightened emotions of both teenagerhood and fandom with two pitch-perfect characters approaching the world of ships, slash, conventions, and cosplay from opposite sides of a cult TV show, finding a way to meet each other in the middle, and getting to know themselves better along the way. SHIP IT catapulted me back to my own years of being an obsessive teenager discovering pieces of herself in the fanfiction she read in secret on dial up internet. I love this book so much I literally can't even."—
Mackenzi Lee, New York Times bestselling author of The Gentleman's Guide to Vice and Virtue
"This hilarious LGBTQ+ story of a fangirl and her shocking interaction with the actor of her favorite character will make you rethink everything."—
Seventeen.com