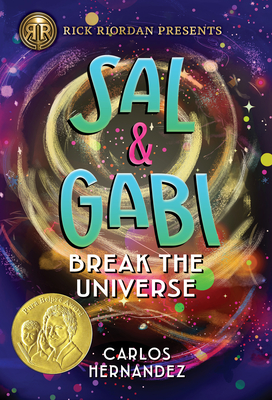 Rick Riordan Presents Sal and Gabi Break the Universe (A Sal and Gabi Novel, Book 1)
Hardcover

* Individual store prices may vary.
Other Editions of This Title:
Digital Audiobook (3/4/2019)
Paperback (5/5/2020)
Library Binding, Large Print (10/16/2019)
Description
Best-selling author Rick Riordan presents a brilliant sci-fi romp with Cuban influence by Carlos Hernandez, winner of the 2020 Pura Belpré Award.

"I love this book in every possible universe! With a surprise on every page and two of the most cosmically awesome, vividly unique heroes I've ever read, this sweet, hilarious book made me so happy."--Tui T. Sutherland, author of the New York Times best-selling Wings of Fire series

What would you do if you had the power to reach through time and space and retrieve anything you want, including your mother, who is no longer living (in this universe, anyway)?

When Sal Vidon meets Gabi Real for the first time, it isn't under the best of circumstances. Sal is in the principal's office for the third time in three days, and it's still the first week of school. Gabi, student council president and editor of the school paper, is there to support her friend Yasmany, who just picked a fight with Sal. She is determined to prove that somehow, Sal planted a raw chicken in Yasmany's locker, even though nobody saw him do it and the bloody poultry has since mysteriously disappeared.

Sal prides himself on being an excellent magician, but for this sleight of hand, he relied on a talent no one would guess . . . except maybe Gabi, whose sharp eyes never miss a trick. When Gabi learns that he's capable of conjuring things much bigger than a chicken--including his dead mother--and she takes it all in stride, Sal knows that she is someone he can work with. There's only one slight problem: their manipulation of time and space could put the entire universe at risk.

A sassy entropy sweeper, a documentary about wedgies, a principal who wears a Venetian bauta mask, and heaping platefuls of Cuban food are just some of the delights that await in his mind-blowing novel gift-wrapped in love and laughter.

Endorsed by Rick Riordan, author of Percy Jackson and the Olympians, soon to be a series on Disney+.



Praise For Rick Riordan Presents Sal and Gabi Break the Universe (A Sal and Gabi Novel, Book 1)…
"Sal and Gabi Break the Universe is beautiful, bonkers, and filled to the brim with a fiercely unstoppable joy."—William Alexander, National Book Award-winning author of A Properly Unhaunted Place

"Carlos Hernandez rips through the fabric of space and pulls out a treat to rival the greatest of Sal's dad's famous ice cream sundaes. The ingredients: humor, a dash of metaphysics, and a cast of unforgettable characters. Sal and Gabi may have broken the universe, but they won my heart!"—Gordon Korman, #1 best-selling author of Swindle and Slacker

"I love this book in every possible universe! With a surprise on every page and two of the most cosmically awesome, vividly unique heroes I've ever read, this sweet, hilarious book made me so, so happy. Everybody read this book! It will bring you joy and save the world/multiverse!"—Tui T. Sutherland, author of the New York Times best-selling Wings of Fire series

"If Harry Houdini, Mr. Rogers, and Dr. Stephen Hawking wrote a book together, it might come close to the wonder, magic, and metaphysics of Carlos Hernandez's Sal and Gabi Break the Universe, but only Hernandez can bring the magnificent Sal Vidon, the brilliant Gabi Real, their families, and fellow students at Culeco Academy of the Arts to life. This book is a delight and a must-read."—Fran Wilde, Hugo, Nebula, and World Fantasy Award Finalist; author of Updraft

"This book is good-hearted, funny, magical, and absolutely unputdownable. I fell in love with all the characters and want to keep reading about them forever."—Tina Connolly, author of the Seriously Wicked series

*"Artfully balancing sf antics with a meaningful exploration of grief, Hernandez fills his fast-paced novel with an intriguing blend of sf, folklore, and Cuban culture and populates it with delightfully well-rounded, clever, and exceptionally kind characters, all in a lively, distinctive voice. With a compelling cliff-hanger ending, this engrossing adventure is sure to leave readers excitedly anticipating the next installment."—Booklist (starred review)

*"The story moves quickly, with lots of multiverse traffic, school hijinks, and strong, smart, diverse characters. Most are Cuban-American in various shades of brown, like Sal, Gabi, and Yasmany, and Hernandez effortlessly folds in multiple intersectionalities, including Sal's diabetes and Gabi's unusual, delightfully matter-of-fact family structure. Secondary characters receive as much care and love as the primary cast, and readers will find themselves laughing out loud and rooting for Sal, Gabi, and even Yasmany until the very end. This book, drenched in Cuban Spanish and personality, is a breath of fresh air."—Kirkus Reviews (starred review)

*"This vibrant tale from Cuban-American Hernandez (The Assimilated Cuban's Guide to Quantum Santeria for adults) is peppered with Spanish dialogue and slang, filled with mouthwatering plates of Cuban cuisine, and highly inclusive, featuring a sprawling, memorable cast, including Gabi's collection of gender-spanning dads. A nonstop sense of wonder accompanies a genuinely heartwarming and humorous tone, and Sal and Gabi are clearly a fictional team destined for greatness."—Publishers Weekly (starred review)

*"Delightfully weird, this is unlike any other book in the middle grade canon. Hernandez has managed to include conflict and excitement into his first novel for young people . . . Fans who enjoyed Madeleine L'Engle's A Wrinkle in Time and Rick Riordan's works will love Sal and Gabi, as will readers looking for upbeat fiction with Spanish-speaking characters. Hernandez offers a rip-roaring and emotionally resonant sci-fi adventure. A must-have for middle school or upper elementary libraries . . ."—School Library Journal (starred review)
Rick Riordan Presents, 9781368022828, 400pp.
Publication Date: March 5, 2019
About the Author
Carlos Hernandez has published more than thirty works for fiction, poetry, and drama, most notably a book of short stories for adults entitled The Assimilated Cuban's Guide to Quantum Santeria. He is an English professor at City University of New York, and he loves to both play games and design them. He lives with his wife, Claire, in Queens, New York. Follow him on Twitter: @WriteTeachPlay.