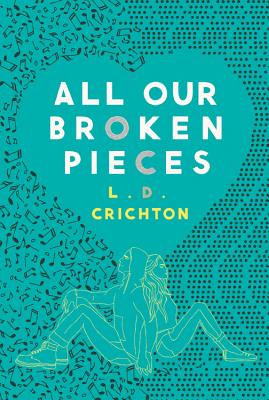 All Our Broken Pieces
Hardcover

* Individual store prices may vary.
Other Editions of This Title:
Paperback (4/7/2020)
Description
You can't keep two people who are meant to be together apart for long . . .

Lennon Davis doesn't believe in much, but she does believe in the security of the number five. If she flicks the bedroom light switch five times, maybe her new LA school won't suck. But that doesn't feel right, so she flicks the switch again. And again. Ten more flicks of the switch and maybe her new stepfamily will accept her. Twenty-five more flicks and maybe she won't cause any more of her loved ones to die. Fifty more and then she can finally go to sleep. Kyler Benton witnesses this pattern of lights from the safety of his tree house in the yard next door. It is only there, hidden from the unwanted stares of his peers, that Kyler can fill his notebooks with lyrics that reveal the true scars of the boy behind the oversize hoodies and caustic humor. But Kyler finds that descriptions of blond hair, sad eyes, and tapping fingers are beginning to fill the pages of his notebooks. Lennon, the lonely girl next door his father has warned him about, infiltrates his mind. Even though he has enough to deal with without Lennon's rumored tragic past in his life, Kyler can't help but want to know the truth about his new muse.
Praise For All Our Broken Pieces…
"This is a delicious story of love, support, respect, and understanding without judgment. Perfect for readers who struggle with hiding something they should embrace and those who love tested romances."—
Booklist
"Nothing short of superb... Issues are handled delicately in this emotionally charged story addressing teenage love, mental illness, physical defects, and more."—
School Library Journal
"Crichton is a master at manipulating her reader's emotions, and I, for one, loved every second of it.
All Our Broken Pieces
is sharply written, honest to the core, and deeply moving. Don't miss this story about surrounding yourself with people who accept you for exactly who you are."—
Tamara Ireland Stone, New York Times bestselling author of Every Last WordAccolades
Publishers Lunch: Buzz Books Spring/Summer Young Adult Preview, selection (2019)
BookRiot: 150 YA Books Hitting Shelves in April, May, and June 2019: Spring 2019 YA Book Preview, selection
The Nerd Daily: 12 Debut Novels Coming Out in May 2019, selection
Little, Brown Books for Young Readers, 9781368023962, 416pp.
Publication Date: May 7, 2019
About the Author
L. D. Crichton is the author of The Enchantment of Emma Fletcher, which received a starred review from School Library Journal. She's a coffee devotee and lip gloss enthusiast whose infatuation with music is truly astonishing. If she's not reading, writing, or checking her horoscope for signs from the universe, you can find her by the water in search of mermaids because they're real. All Our Broken Pieces is her first young adult novel.