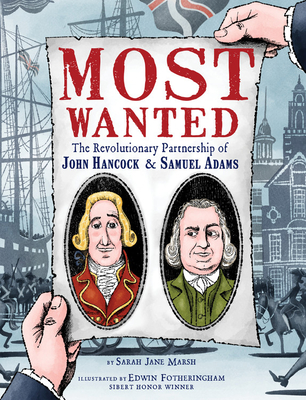 Most Wanted
The Revolutionary Partnership of John Hancock & Samuel Adams
Hardcover

* Individual store prices may vary.
Description
John Hancock and Samuel Adams were an unlikely pair of troublemakers. Hancock was young and dashing. Adams was old and stodgy. But working together, they rallied the people of Boston against the unfair policies of Great Britain and inspired American resistance. And to King George, they became a royal pain.
When the British army began marching toward Lexington and Concord, sending Hancock and Adams fleeing into the woods, the two men couldn't help but worry--this time, had they gone too far?
Rich with historical detail and primary sources, this spirited tale takes readers through ten years of taxes and tea-tossing, tyranny and town hall meetings. The team behind Thomas Paine and the Dangerous Word reunites for a lively look at the origins of the American Revolution told through the powerful partnership of two legendary founders.
Praise For Most Wanted: The Revolutionary Partnership of John Hancock & Samuel Adams…
* "A lively, insightful look at the origins of the American Revolution."—
Kirkus Reviews (starred review)
"Engaging and thoroughly researched. . . . [This tale] shows that the study of history can be anything but boring."—
Publishers WeeklyPRAISE FOR THOMAS PAINE AND THE DANGEROUS WORD
2019 NCSS/CBC Notable Children's Trade Book in the Field of Social Studies
2019 NCTE Notable Children's Book in the Language Arts
PRAISE FOR THOMAS PAINE AND THE DANGEROUS WORD
* "Marsh does a fine job of mixing the personal and public elements of Paine's life; he comes across as not just a historical figure, but a fully realized fellow, with hopes and dreams, enthusiasms and disappointments. . . . Her lively text is complemented by Fotheringham's artwork, . . . which sets the mood on every page."—
Booklist (starred review)PRAISE FOR THOMAS PAINE AND THE DANGEROUS WORD
"The power of the pen resonates both in the narrative and in illustrations depicting Paine brandishing a quill pen that grows in size as his words capture the imagination of the colonists. Making the point that words matter, Fotheringham flings hand-lettered words, phrases, and written documents across the pages marking a turning point in Paine's life. This stirring biography moves along briskly . . . but Marsh's clear prose style and short, declarative sentences allow readers to follow events easily--and even to slow down and think about them."—
Horn Book
Little, Brown Books for Young Readers, 9781368026833, 80pp.
Publication Date: March 24, 2020
About the Author
Sarah Jane Marsh is the author of Thomas Paine and the Dangerous Word, illustrated by Edwin Fotheringham. Sarah has taught American Revolution history in elementary and middle school . . . and is still learning. She loves to visit historical sites and museums around Boston and beyond. Sarah lives with her family outside of Seattle. Learn more at www.sarahjanemarsh.com.

Edwin Fotheringham grew up in Sydney, Australia, and attended the University of Washington School of Art in Seattle, where he currently lives. He began his career as an illustrator working on a variety of projects, from CD covers to Neiman Marcus print ads. Other clients include The New Yorker and The Wall Street Journal. Edwin has also illustrated a number of children's books, including Thomas Paine and the Dangerous Word by Sarah Jane Marsh, Tony Baloney by Pam Muñoz Ryan, and What to Do About Alice? by Barbara Kerley, which received the Robert F. Sibert Honor. See more of his work online at edfotheringham.com.