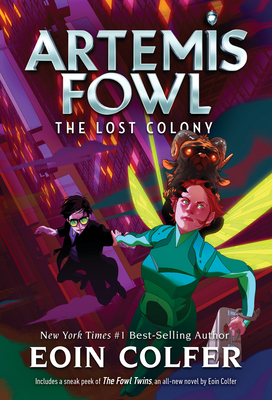 The Lost Colony (Artemis Fowl, Book 5) (Paperback)
Disney-Hyperion, 9781368036962, 432pp.
Publication Date: December 4, 2018
* Individual store prices may vary.
Description
Until recently, Artemis Fowl was the only human to have discovered that magical beings do indeed exist. But now a second juvenile genius wants to capture a demon for scientific study. Only an ancient time spell separates the demons from humankind--and Artemis must prevent it from unraveling. If he fails, the bloodthirsty tribe will relaunch their quest to wipe humans from the planet.
About the Author
Eoin Colfer is the New York Times best-selling author of eight books in the Artemis Fowl series and well as Iron Man: The Gauntlet, the WARP trilogy, Airman, Half Moon Investigations, The Supernaturalist, Eoin Colfer's Legend of... books, The Wish List, Benny and Omar; and Benny and Babe. He lives in Dublin, Ireland with his wife and two sons.

Praise For The Lost Colony (Artemis Fowl, Book 5)…
PRAISE FOR THE ARCTIC INCIDENT

"The world that Colfer creates is as vivid and fantastical as any shire, gotham, or galaxy far, far away in recent memory."—Entertainment Weekly

PRAISE FOR THE LAST GUARDIAN

* "A fitting end to a brilliantly conceived and developed series."—Kirkus (starred review)

PRAISE FOR THE ATLANTIS COMPLEX

"Colfer keeps the action moving with laughs and gadgetry. . .A treat for series fans."—Booklist

PRAISE FOR THE TIME PARADOX

"The author once again offers an exhilarating ride through the fantastical world of Artemis Fowl."—School Library Journal

PRAISE FOR THE LOST COLONY

"Fast-paced, funny, and wholly enjoyable, the book is an action-packed thrill ride."—VOYA

PRAISE FOR THE OPAL DECEPTION

"This book is magical. . ."—The Washington Post

PRAISE FOR THE ETERNITY CODE

* "Agile prose, rapid-fire dialogue and wise-acre humor ensure that readers will burn the midnight oil to the finish."—Publishers Weekly (starred review)