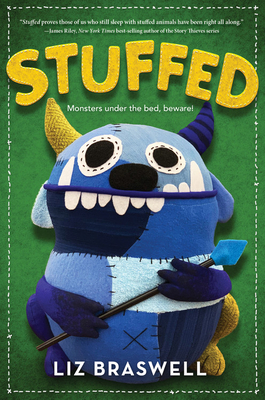 Stuffed
Hardcover

* Individual store prices may vary.
Other Editions of This Title:
Digital Audiobook (11/4/2019)
Paperback (4/6/2021)
Description
Welcome, little one. You have been chosen to join us, in the dark and in the light, in love and in cloth, in safety and in danger. You join us.
Everyone thinks that Clark is too old to still play with stuffed animals. He's almost eleven! Bullies target him at school while his mother tries increasingly un-subtle ways to wean him off his toys and introduce more "normal" interests. But Clark can't shake the feeling that his stuffed friends are important, even necessary. Sometimes they move around in the night, and sometimes in the morning they look a little worse for wear, as if they've engaged in battle. And it turns out . . . he's right.
Clark's dad is under attack by a nefarious, shadowy monster called a King Derker, and only Clark's stuffies are able to fight him off. The problem is, no one believes Clark, and when his mom attempts to rid the house of stuffed animals to try to get him to grow up, she's actually putting Clark's dad and the entire household in mortal peril. Now it's up to Clark's grandma-made sock animal, Foon, to save the day. Luckily, being handmade by a loved one gives Foon extra battle points, but he's still a brand-new stuffy. Does he have what it takes to rid Clark's house of all its monsters?
Told through both Clark's and Foon's points of view, Stuffed confirms every kid's dream: that stuffed animals do have a life and a purpose, and that sometimes the most unconventional friendships are also the most valuable.

Praise For Stuffed…
" Take a journey into the Dark with this thrilling story about family, courage, and friendship. Clark won me over from the very beginning, and all readers will wish they had a Stuffy like Foon! "—Elizabeth Lim, author of Spin

"Stuffed proves those of us who still sleep with stuffed animals have been right all along."—James Riley, New York Times best-selling author of the Story Thieves series

"The perfect blend of creepy and cool! Kids will never look at their stuffed animals the same way again!"—Jen Calonita, author of the Fairy Tale Reform School series
Disney-Hyperion, 9781368037013, 256pp.
Publication Date: November 5, 2019
About the Author
Liz Braswell spent her childhood reading fairy tales, catching frogs, and going on adventures in the woods with her stuffed animals. She has a degree in Egyptology from Brown University (and yes, she can write your name in hieroglyphs). After making video games for ten years Liz now writes full-time and plays video games for fun. She has written Snow,Rx, The Nine Lives of Chloe King, and several books in the best-selling Twisted Tales series, including Part of Your World and As Old as Time. She lives in Brooklyn with her husband, two children, a cat, a part-time dog, three fish, and five coffee trees, and still sleeps with a Stuffy. You can email her at me@lizbraswell.com or Instagram and tweet @LizBraswell.
or
Not Currently Available for Direct Purchase