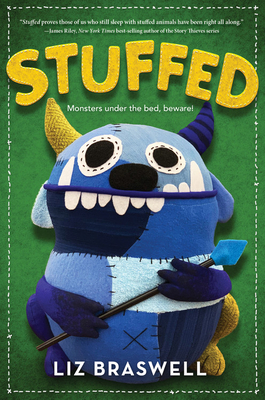 Stuffed (Hardcover)
Disney-Hyperion, 9781368037013, 256pp.
Publication Date: November 5, 2019
* Individual store prices may vary.
About the Author
Liz Braswell spent her childhood reading fairy tales, catching frogs, and going on adventures in the woods with her stuffed animals. She has a degree in Egyptology from Brown University (and yes, she can write your name in hieroglyphs). After making video games for ten years Liz now writes full-time and plays video games for fun. She has written Snow, Rx, The Nine Lives of Chloe King, and several books in the best-selling Twisted Tales series, including Part of Your World and As Old as Time. She lives in Brooklyn with her husband, two children, a cat, a part-time dog, three fish, and five coffee trees, and still sleeps with a Stuffy. You can email her at me@lizbraswell.com or Instagram and tweet @LizBraswell.
Praise For Stuffed…
"Take a journey into the Dark with this thrilling story about family, courage, and friendship. Clark won me over from the very beginning, and all readers will wish they had a Stuffy like Foon!"—Elizabeth Lim, author of Spin

"The perfect blend of creepy and cool! Kids will never look at their stuffed animals the same way again!"—Jen Calonita, author of the Fairy Tale Reform School series

"Stuffed proves those of us who still sleep with stuffed animals have been right all along."—James Riley, New York Times best-selling author of the Story Thieves series