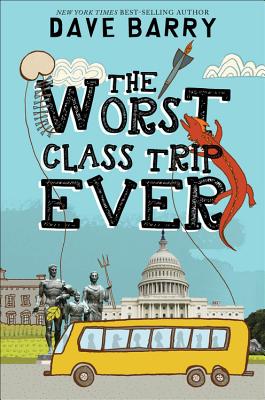 The Worst Class Trip Ever
Paperback

* Individual store prices may vary.
Other Editions of This Title:
Digital Audiobook (5/4/2015)
Hardcover (5/5/2015)
MP3 CD (8/10/2016)
Compact Disc (8/10/2016)
Description
In this hilarious novel, written in the voice of eighth-grader Wyatt Palmer, Dave Barry takes us on a class trip to Washington, DC. Wyatt, his best friend, Matt, and a few kids from Culver Middle School find themselves in a heap of trouble-not just with their teachers, who have long lost patience with them -- but from several mysterious men they first meet on their flight to the nation's capital. In a fast-paced adventure with the monuments as a backdrop, the kids try to stay out of danger and out of the doghouse while trying to save the president from attack-or maybe not.
Praise For The Worst Class Trip Ever…
On a class trip to Washington, DC, eighth grader Wyatt Palmer and his best friend Matt believe that they have uncovered a terrorist plot. The men seated behind them in the airplane are oddly protective of their luggage and spend their time during the flight studying aerial photos of the White House. During a scuffle with these passengers, Matt removes an odd device from one man's backpack. This event gets Matt and Wyatt into trouble with their teacher, not to mention a stern lecture from the Federal Air Marshal, but they figure it will be worth it if they have foiled a terrorist plot. Unfortunately, Wyatt and Matt have not seen the last of those two men. For the rest of their trip, Wyatt, Matt, and a few more of their classmates (including Wyatt's crush Suzana) avoid bad guys, sneak away from the rest of their class, and conceal the whole situation from their chaperones. If everything goes well, Wyatt can save the country and get the girl-but when has anything on this trip gone well for Wyatt? Barry's trademark humor shines in this tale of a field trip gone hilariously wrong. While Wyatt's adventures occasionally push the boundaries of credulity, his escapades are so funny that readers are likely to be forgiving. VERDICT With its wacky humor and mildly suspenseful scenarios, this appealing book will be a good fit for most libraries.School Library Journal

A Miami eighth-grader's class trip to the nation's capital quickly escalates into an international incident.Wyatt Palmer wants nothing more than a nice, peaceful, informative class trip to Washington, D.C. But when his best friend, Matt, spots some suspicious activity on their plane, his dream vanishes-in a big way. Soon Matt is kidnapped, possibly by international terrorists, and it's up to Wyatt and the girl of his dreams to find him and exchange a deadly device for their lost friend. That all sounds heavy, but humor columnist Barry sprinkles enough laughs throughout to keep things moving smoothly. The novel's ludicrous scenario is met with an equally comic tone, making for a fast-paced, easy read. The author sup! plies these kids with enough smarts to get out of jams but enough vulnerabilities to keep readers engaged. At no point will readers be worried about the fate of the world, but whether or not Wyatt and his pals make it out in one piece is another matter. The book's shortcomings are few: the adult characters are as flat as the children are round, some of the slapstick goes a bit too far, and the final pages are overstuffed with expository "this is how everybody ended up" chunks of text. A light, comic tone and more-or-less believable stakes make for a winning combination.Kirkus

Check your disbelief at the TSA line for this hilarious jaunt from Miami to Washington, D.C., with the civics students of Culver Middle School. Trouble starts on the airplane, where Wyatt Palmer and friend Matt Diaz notice that some nearby passengers have aerial photos of the White House and a backpack they are reluctant to stow under the seat in front of them. When an electronic device falls out of the bag, Matt pockets it, setting off a chain of events that leads to two kidnappings and an international incident in the Rose Garden involving the President, a foreign dignitary, a dragon kite, an angry cab driver, and more. (Suggested alternate title: The Worst School Chaperones Ever.) The boys are aided by the apple of Wyatt's eye, Suzana Delgado, who they are surprised to learn is not only an excellent soccer player but "basically a Navy SEAL disguised as a hot eighth-grade girl." Pulitzer-winner Barry has the comic sensibility of a middle-school class clown. Expect to have lots of trouble keeping this one on the shelf.Publisher's Weekly
Little, Brown Books for Young Readers, 9781368040594, 224pp.
Publication Date: March 12, 2019
About the Author
Dave Barry is a Pulitzer Prize-winning author of more than two dozen books including You Can Date When You're 40. Along with Ridley Pearson, he is the co-author of the Peter and the Starcatchers series and Science Fair. Dave, his wife Michelle and their family live in Miami, Florida.