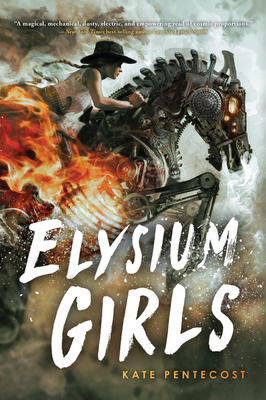 Elysium Girls (Hardcover)
Disney-Hyperion, 9781368041867, 400pp.
Publication Date: April 14, 2020
* Individual store prices may vary.
Description
From a lush, dazzlingly original new voice in YA fantasycomes an epic clash of witches, gods and demons as the fate of humanity hangsin the balance.
Elysium, Oklahoma, is a town like any other. Respectable.God-fearing. Praying for an end to the Dust Bowl.
Until the day the Dust Soldiers arrive ? until the people ofElysium learn it's all a lie. You see, there isn't only one god. There are twosisters: Life and Death. And the Sisters like to gamble against each other withthings like time and space and human lives.
Elysium is to become the playboard in a ruthless gamebetween the goddesses. The Dust Soldiers will return in ten years' time, and ifthe people of Elysium have not proved themselves worthy, all will be slain.
Nearly ten years later, seventeen-year-old Sal Wilkinson iscalled upon to lead Elysium as it prepares for the end of the game. But then anoutsider named Asa arrives at Elysium's gates with nothing more than a sharpsmile and a bag of magic tricks, the frightened townspeople flock to this side.Sal tries to prove herself the best witch to lead Elysium, only to trigger aterrible accident that gets both her and Asa exiled into the brutal Desert ofDust and Steel.
There Sal and Asa stumble upon a gang of girls headed byanother exile - a young witch everyone in Elysiumbelieves to be dead. As the apocalypse looms, seven girls and one demon willuse their gifts to create a cavalry of magic-powered scrap metal horses to rideto Elysium's aid. But they must do more than simply tip the scales in Elysium'sfavor - only by reinventing the rulescan they beat Life and Death at their own game.
About the Author
Kate Pentecost was born and raised on the Texas/Louisiana state line, where there are more churches, pine trees and alligators than anything else. She has worked in teaching, indie publishing, anti-censorship advocacy, and (her favorite) hand-selling children's books at NYC's famous Strand Bookstore. She has an MFA in Writing for Children and Young Adults from Vermont College of Fine Arts, and has studied with Susan Fletcher, Louise Hawes, A.S. King, Micol Ostow, and Nova Ren Suma as well as adult authors such as Ken Liu and Antonya Nelson. ELYSIUM GIRLS is her debut.
Praise For Elysium Girls…
A magical, mechanical, dusty electric and empowering read of cosmic proportions.—New York Times bestselling author Cynthia Leitich Smith

"Elysium Girls is a storm-purely electric with epic, vengeful mythology and fiercely lovable characters. Masterfully written, evocative, and soundly feminist, Pentecost has fashioned a new bewitching fantasy out of literal dust."—-Cori McCarthy, bestselling coauthor of Once & Future