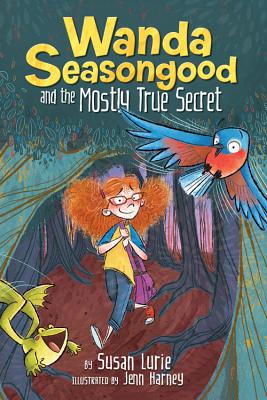 Wanda Seasongood and the Mostly True Secret (Hardcover)
Little, Brown Books for Young Readers, 9781368043151, 224pp.
Publication Date: February 11, 2020
* Individual store prices may vary.
Description
Wanda hates her little brother, Zane. But don't judge her for it--Zane is an absolute terror, and her parents blame Wanda for his monstrous behavior. On her eleventh birthday, Wanda makes a wish: to find her true family, because she knows deep down that this one can't be hers. She gets a surprise visit from a talking bluebird named Voltaire who seems wise and confirms her suspicion that someone has been meddling with her life. He knows the secret . . . he just can't remember what it is right now. Together they venture into the Scary Wood, where they encounter many magical creatures as they search for the truth. Wanda must summon all her courage and intelligence to outwit giant hairy Groods who want to eat her, a swamp goblin who wants to make her fade away, a nixie who wants to turn her into a squid, dragons who may or may not be nice, and, perhaps worst of all, a frog who wants to kiss her. None of these adversaries prepares her for the biggest one: a witch named Raymunda, who has put her and her family under a spell. Will Wanda succeed in breaking it, or will she be stuck in the wrong life forever?
About the Author
Susan Lurie is a children's book author and editor. Her most recent picture books include Swim, Duck, Swim!, which received a starred Kirkus review and appeared on Bank Street's 2015 Best Books of the Year list; Will You Be My Friend?; and Frisky Brisky Hippity Hop. Before she became an independent author/editor, she was publisher of Parachute Press, the creator of the Goosebumps and Fear Street series. She has worked with R.L. Stine on over 140 Goosebumps books and still counting. She lives in Forest Hills, New York with her husband and their pet fish, Pickle.

For more information, go to www.susanlurie.com, or follow her on Twitter @SusanLurie2.
Jenn Harney is the author-illustrator of Underwear! and Swim Swim Sink. She has also illustrated the Hazy Bloom chapter book series by Jennifer Hamburg, as well as the forthcoming picture books How to Become a Knight (in Ten Easy Lessons) by Todd Tarpley and Never Trumpet with a Crumpet by Amy Gibson. Jenn lives in Cleveland, Ohio, with her husband, her daughter, a corgi named Steve, and the ghost of the oldest living goldfish in North America. Follow her on Twitter @jennharknee.
Praise For Wanda Seasongood and the Mostly True Secret…
"Readers will find it hard to put this book down once they start reading and will be excited to find out what's next for Wanda and Voltaire."—School Library Journal

"Wanda is by turns charmingly flabbergasted and persistently practical but ever well meaning; readers are sure to root for her along the journey."—Kirkus

"Lurie spins a tale with satisfying twists and turns to keep the reader wondering who, if anyone, can be trusted in this fantastical adventure."—BCCB

"In her amazing journey through the Scary Wood, Wanda Seasongood fades to smoke, nearly drowns, is torn limb from limb, turns into a squid, and almost explodes. And that's just the BEGINNING! Come along with her on a sly, laugh-out-loud adventure you'll never forget."—R.L. Stine, the best-selling author of the Goosebumps series