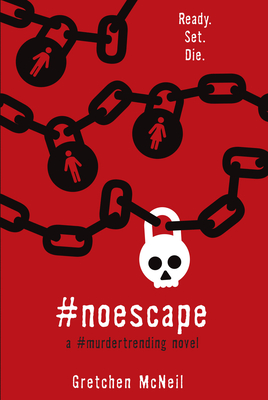 #NoEscape (#MurderTrending #3)
Paperback

* Individual store prices may vary.
Other Editions of This Title:
Hardcover (9/15/2020)
Description
"Gory and campy horror, perfect for the Halloween season."
—Kirkus Reviews


The #murder and mayhem continue in this prequel companion novel to the grisly, campy social media insanity that is #MurderTrending and #MurderFunding. Gretchen McNeil brings her signature wit and merciless kills to this gruesome yet hilarious, wildly topical young adult novel.


Escape rooms are all fun and games...until the contestants start dying gruesome deaths.


Seventeen-year-old Persey feels worthless much of the time. Her parents prefer her smarter, more enigmatic big brother to her, and she can't quite seem to succeed — let alone fit in — at school. But there is one thing she's good at: escape rooms. So when she's invited to compete in an escape room competition that carries a prize worth millions, Persey is all over it.


Persey enters the competition along with seven other young contestants, but while most escape rooms are about teamwork and collaboration, this one is all about being cut-throat—literally. When contestants start getting killed off, Persey must solve a series of bizarre and gruesome puzzles, riddles, and games to make it out alive. Along the way she learns the contestants are mysteriously connected—and someone is out for vengeance.


Twenty years before Dee Guerra and the Death Row Breakfast Club took down The Postman and Alcatraz 2.0 in #MurderTrending, long before Becca survived The Juggernaut and Who Wants to Be a Painiac? in #MurderFunding, the murder games first began with one awful day at Escape-Capades, Ltd.™ And there's no telling who might have made it out alive, or what they may have later become.
Praise For #NoEscape (#MurderTrending #3)…
"Gory and campy horror, perfect for the Halloween season."—Kirkus Reviews
Disney-Hyperion, 9781368044028, 352pp.
Publication Date: July 6, 2021
About the Author
Gretchen McNeil is the author of #MurderTrending, I'm Not Your Manic Pixie Dream Girl and the Don't Get Mad duology, as well as the YA horror novels Possess, 3:59, Relic, and Ten which was a 2013 YALSA Top Ten Quick Pick for Reluctant Young Adult Readers and was adapted as the Lifetime original movie Ten: Murder Island in 2017. You can find her online at www.GretchenMcNeil.com, on Instagram @Gretchen_McNeil, and on Twitter @GretchenMcNeil.