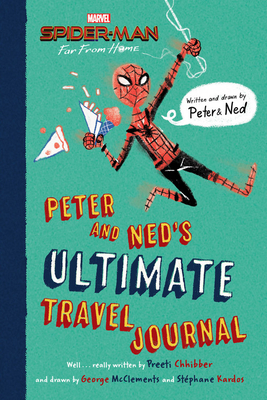 Spider-Man
Far From Home: Peter and Ned's Ultimate Travel Journal
Hardcover

* Individual store prices may vary.
Other Editions of This Title:
Hardcover (6/4/2019)
Description
Peter Parker's off to Europe with his classmates from school! How does Spider-Man stay one step ahead of the bad guys while on the road, while keeping his identity a secret? You can find that out-and a whole lot more-in this book filled with epic writings from Peter and his best friend Ned. With the help of MJ, Peter and Ned have jotted down all the exciting things they saw while traveling through Europe: favorite foods, photo ops, Spidey-secrets, and more. This ultimate travel journal has it all!
Marvel Press, 9781368046985, 192pp.
Publication Date: June 4, 2019
About the Author
Preeti Chhibber has spent her life being a fan of being a fan. Hailing from Florida, she spent a decade working in children's publishing in New York before leaving to pursue writing full time. She's written for SYFY, BookRiot, BookRiot Comics, The Nerds of Color, and The Mary Sue, among others. Her short story, "Girls Who Twirl and Other Dangers" was published in the anthology A Thousand Beginnings and Endings (HarperCollins, 2018). You can find her co-hosting the podcasts Desi Geek Girls and Strong Female Characters (SYFYWire). She's appeared on several panels at New York Comic-Con, San Diego Comic-Con, and on screen on the SYFY Network. Honestly, you probably recognize her from one of several BuzzFeed "look at these tweets" Twitter lists. She usually spends her time reading a ridiculous amount of Young Adult but is also ready to jump into most fandoms at a moment's notice.
George McClements works as a Director of Character Art for the Walt Disney Company during the day and catches villains at night.
He lives with his wife and two sons somewhere in California.
@georgemcclements
Stéphane Kardos was born in France, and now lives in Los Angeles, where he is a Director of Character Art for the Walt Disney Company.
@stefkardos