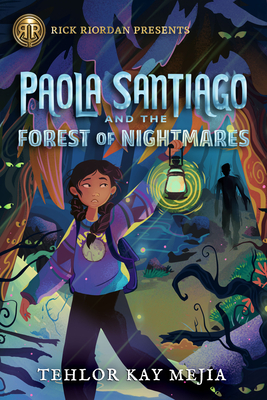 Rick Riordan Presents Paola Santiago and the Forest of Nightmares (A Paola Santiago Novel, Book 2)
Paperback

* Individual store prices may vary.
Other Editions of This Title:
Digital Audiobook (8/2/2021)
Hardcover (8/3/2021)
Library Binding, Large Print (11/10/2021)
Description
Best-selling author Rick Riordan presents the sequel to Tehlor Kay Mejia's critically acclaimed ghost story about science-obsessed Paola Santiago.

"Paola is a brilliant, furious girl who often trusts her brain but trips over her heart."--Sarah Gailey, Hugo and Locus award-winning author of
River of Teeth

Six months after Paola Santiago confronted the legendary La Llorona, life is nothing like she'd expected it to be. She is barely speaking to her best friends, Dante and Emma, and what's worse, her mom has a totally annoying boyfriend. Even with her chupacabra puppy, Bruto, around, Pao can't escape the feeling that she's all alone in the world.
Pao has no one to tell that she's having nightmares again, this time set in a terrifying forest. Even more troubling? At their center is her estranged father, an enigma of a man she barely remembers. And when Dante's abuela falls mysteriously ill, it seems that the dad Pao never knew just might be the key to healing the eccentric old woman.
Pao's search for her father will send her far from home, where she will encounter new monsters and ghosts, a devastating betrayal, and finally, the forest of her nightmares. Will the truths her father has been hiding save the people Pao loves, or destroy them?
Once again Tehlor Kay Mejia draws on her Mexican heritage to tell a wild and wondrous story that combines creatures from folklore with modern-day challenges.
Endorsed by Rick Riordan, author of Percy Jackson and the Olympians, soon to be a series on Disney+.


Complete your middle grade collection with these best-selling fan favorites:
Rick Riordan Presents Aru Shah and the End of Time by Roshani Chokshi
Rick Riordan Presents Tristan Strong Punches a Hole in the Sky by Kwame Mbalia
Rick Riordan Presents Sal and Gabi Break the Universe by Carlos Hernandez
The Percy Jackson and the Olympians series by Rick Riordan
The Trials of Apollo series by Rick Riordan
Praise For Rick Riordan Presents Paola Santiago and the Forest of Nightmares (A Paola Santiago Novel, Book 2)…
"Paola Santiago and the River of Tears is just plain marvelous. Paola is a brilliant, furious girl who often trusts her brain but trips over her heart. This book is a thrilling adventure from start to finish, with a bright core of emotional honesty anchoring it to reality."—Sarah Gailey, Hugo and Locus Award-winning author of River of Teeth

"A clever, twisty, imaginative take on the ever-spooky folktale La Llorona. Filled with love and fear and courage. Readers will delight!"—J.C. Cervantes, New York Times best-selling author of THE STORM RUNNER

"Mejia pulls no punches in showing us the monsters--whether fantastic or all too real--that children who live on the border between two cultures face every day. Even better, she gives readers the tremendous gift of a third way, one that shows us science and folklore aren't enemies, but rather allies, and that reason and myth are strongest when they work together."—Carlos Hernandez, award-winning author of Sal and Gabi Fix the Universe

"Paola Santiago and the River of Tears has the perfect blend of action, heart, and honesty in showing a painful world that most readers will already recognize--and proving the perfect amount of hope that they will survive and thrive. Tehlor Kay Mejia's writing is pure magic."—Karen Callender, Stonewall Book Award-winning author of Hurricane Child

"Paola Santiago is a whip-smart Latina who dares to explore the shadows between folklore and middle-school friendship. A thrilling adventure full of culture, magic, monsters, and a mystical chancla, Mejia offers readers a fresh, modern take on La Llorona while creating a legend of the intrepid Paola."—Nina Moreno, author of DON'T DATE ROSA SANTOS

*"A new hero's fantastic and fantastical debut--her next appearance can't come soon enough."—Kirkus Reviews (starred review)

*"A warm, thrilling Mexican American adventure. An essential purchase."—School Library Journal (starred review)<br>

*"Mejia draws upon her Latinx heritage to conjure creatures from folklore . . . and layer[s] in realistic plot points: socioeconomic and immigration concerns, the tension between science and superstition."—Publishers Weekly (starred review)

*"This fast-paced journey into Latinx folklore, with its clever protagonist, is sure to keep readers turning pages into the night."—Booklist (starred review)
Rick Riordan Presents, 9781368051606, 352pp.
Publication Date: August 2, 2022
About the Author
Tehlor Kay Mejia is an Oregon native in love with the alpine meadows and evergreen forests of her home state, where she lives with her daughter. She is the author of three middle grade titles about Paola Santiago: Paola Santiago and the River of Tears, Paola Santiago and the Forest of Nightmares, and Paola Santiago and the Sanctuary of Shadows. Her short fiction appears in the All Out and Toil & Trouble anthologies from Harlequin Teen and The Cursed Carnival and Other Calamities from Rick Riordan Presents. She has also written two highly acclaimed YA novels, We Set the Dark on Fire and We Unleash the Merciless Storm. When she's not writing, you can find her plucking at her guitar, stealing rosemary sprigs from overgrown gardens, or trying to make the perfect vegan tamale. Follow her on Instagram @tehlorkay.