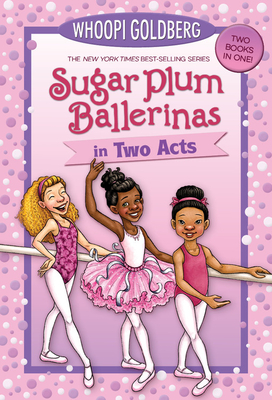 Sugar Plum Ballerinas in Two Acts
Plum Fantastic and Toeshoe Trouble
Paperback

* Individual store prices may vary.
Description
Meet the Sugar Plum Ballerinas
At the Nutcracker School of Ballet in Harlem, young dancers learn to chassé, plié, and jeté with their Sugar Plum Sisters--but things don't always go to plan! As the girls encounter challenges both on and off stage, they'll need the support of their classmates to carry them through with aplomb.
Readers will applaud the first two books in this beloved, New York Times best-selling series celebrating friendship, creativity, and most of all, dance.
Plum FantasticAlexandrea Petrakova Johnson does not want to be a beautiful ballerina, and she does not want to leave her friends in Apple Creek. It's hard enough when her ballet-crazy mother moves the family to Harlem, but when Al is chosen to star in the Nutcracker School of Ballet's big recital, she'll have to contend with her terrible dancing and a rotten case of stage fright! Can her new classmates help her find her inner Sugar Plum Fairy?
Toeshoe TroubleBrenda Black prides herself on her logical and orderly mind. She studies anatomy books and idolizes Leonardo da Vinci. Things go haywire, though, when her spoiled cousin Tiffany comes to visit. Sick and tired of Tiffany's bragging, Brenda snaps and says she owns an autographed pair of famous toe shoes. It's a ballet slipper-y slope as the lie gets out of hand, and she'll need her Sugar Plum Sisters to help get her back en pointe!
Praise For Sugar Plum Ballerinas in Two Acts: Plum Fantastic and Toeshoe Trouble…
PRAISE FOR PLUM FANTASTIC

An NAACP Award Nominee

PRAISE FOR PLUM FANTASTIC

"Warm, funny and tender."—Publishers Weekly

PRAISE FOR PLUM FANTASTIC

"A positive message of the power of friendship [makes] this one a keeper."—Kirkus Reviews

PRAISE FOR PLUM FANTASTIC

"Full of wit and determination."—School Library Journal

PRAISE FOR TOESHOE TROUBLE

An NAACP Award Nominee

PRAISE FOR TOESHOE TROUBLE

"Fast paced and entertaining . . . this book is sure to take center stage on young readers' lists."—School Library Journal
Little, Brown Books for Young Readers, 9781368054591, 304pp.
Publication Date: May 12, 2020
About the Author
Whoopi Goldberg is the author of the Sugar Plum Ballerinas books. She has won a Tony, an Emmy, an Oscar, and a Grammy, as well as two Golden Globes. In 2001, she was awarded the prestigious Mark Twain Prize for American Humor. Whoopi Goldberg has appeared in scores of films and in all media.
Deborah Underwood is the author of numerous picture books, including Finding Kindness, Interstellar Cinderella, Part-time Princess, and the New York Times Best Sellers Here Comes the Easter Cat, The Quiet Book, and The Loud Book! Her ballet career was cut short by a tragic lack of talent, but she can sing a mean aria and knows four ukulele chords. Please visit Deborah online at DeborahUnderwoodBooks.com.

Maryn Roos was always better at drawing ballerinas than being one. Beyond ballerinas, she has drawn everything from monsters to dancing ducks in dozens of books and several educational software programs. Maryn lives and draws, and very rarely dances, in Orem, Utah. Find her online at www.marynroos.com.