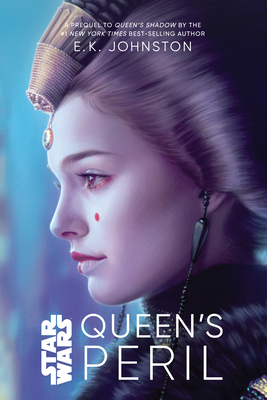 Star Wars Queen's Peril
Hardcover

* Individual store prices may vary.
Description
A prequel to the New York Times best-selling novel Queen's Shadow, further exploring the life of the iconic Padmé Amidala!
When fourteen-year-old Padmé Naberrie wins the election for Queen of Naboo, she adopts the name Amidala and leaves her family to the rule from the royal palace. To keep her safe and secure, she'll need a group of skilled handmaidens who can be her assistants, confidantes, defenders, and decoys. Each girl is selected for her particular talents, but it will be up to Padmé to unite them as a group.
When Naboo is invaded by forces of the Trade Federation, Queen Amidala and her handmaidens will face the greatest test--of themselves, and of each other.
Praise For Star Wars Queen's Peril…
PRAISE FOR AHSOKA

"Ahsoka is a character exploration with sides of action, politics, and drama with an emotional center that gives me a greater appreciation for Ahsoka's role in the galaxy."—Nerdist

PRAISE FOR AHSOKA

"A great treat for young--and not so young--Star Wars fans that provides a thrilling backstory for a compelling character."—Kirkus

PRAISE FOR AHSOKA

"Full of action, emotion, and yes, plenty of answers, Ahsoka is a must-read for any Star Wars fan."
—TV Source

PRAISE FOR QUEEN'S SHADOW

"It's not hyperbole to say that when Queen's Shadow was announced last year at San Diego Comic-Con, there was not only excessive happiness, but an almost frenzied collective exhale. This novel by E.K. Johnston is long overdue and with the expectations of a whole generation of Star Wars fans weighing on her, she delivers with a deeply moving and thoughtful look at this important character and her loyal Handmaidens."—The Force.net

PRAISE FOR QUEEN'S SHADOW

"[Padmé is] a fascinating character worthy of much more attention—not just to see those details come to life, but watch her courtly arc from defiant yet reserved Queen to shrewd, adventurous politician truly shine. Hopefully, Queen's Shadow is just the beginning, even if it's taken us 20 years to get there."—iO9

PRAISE FOR QUEEN'S SHADOW

"Johnston's observation of Padmé is so pitch-perfect that she could herself have been a handmaiden. Consequently, both Padmé and Sabé emerge from under the Queen's shadow with real heart, and they wear their fallibility and sense of public duty on their heavily embroidered sleeves."—The Mary Sue
Disney Lucasfilm Press, 9781368057141, 288pp.
Publication Date: June 2, 2020
About the Author
E.K. Johnston had several jobs and one vocation before she became a published writer. If she's learned anything, it's that things turn out weird sometimes, and there's not a lot you can do about it. Well, that and how to muscle through awkward fanfic because it's about a pairing she likes.
You can follow Kate on Twitter (@ek_johnston) to learn more about Alderaanian political theory than you really need to know, on Tumblr (ekjohnston) if you're just here for the pretty pictures, or online at ekjohnston.ca.