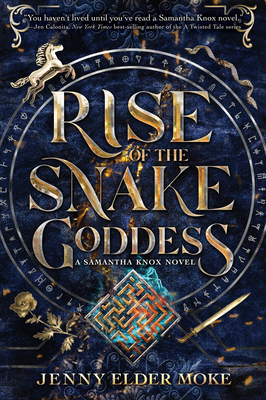 Rise of the Snake Goddess (A Samantha Knox Novel, Book 2)
A Samantha Knox Novel
Hardcover

* Individual store prices may vary.
Description
"You haven't lived until you've read a Samantha Knox novel."—Jen Calonita, New York Times best-selling author of the A Twisted Tale series

The beautiful island of Crete, an archaeological find for the ages, and one seriously pissed-off Greek goddess. It's just another day for Samantha Knox.

After being snubbed by her college's archaeology department for an honor she rightfully earned, Sam is hell-bent on proving her worth to her misogynistic department head. So when an opportunity presents itself to solve the hidden meaning behind a symbol found inside a cave in Greece, Sam is all over it, and she's bringing Bennett and Jo with her for the cross-Atlantic trip. Once on the island of Crete, Sam finds a treasure she never expected—the golden girdle of an ancient and powerful goddess—and she can't resist its siren call, or the accolades she would win for discovering it. But before she can take credit for the find, the girdle is stolen and the island is hit with a series of earthquakes that don't feel quite coincidental.

Soon Sam, Bennett, and Jo are embroiled in a wild hunt—one that takes them to tiny island shops, a glamorous high-stakes auction, and a fiery, near-death experience—to find the girdle before someone can use it to raise the ancient goddess from her slumber. An unexpected heist, a terrifying trek through a labyrinth, and a fight to the death with the Minotaur itself lead to a final standoff she and her friends won't soon forget—one that might just break up Sam and Bennett for good.

Set against the gorgeous backdrop and ancient ruins of the Greek islands, the pulse-pounding action in this twisting mystery will appeal to action-adventure fans, romance die-hards, and mythology buffs alike.
Praise For Rise of the Snake Goddess (A Samantha Knox Novel, Book 2): A Samantha Knox Novel…
"Another action-packed, romance and mythology filled mystery...Themes of wealth, power, and chauvinism are skillfully woven throughout the story while readers are provided with a cast of characters they will easily find themselves rooting for!"—School Library Connection

"Billed as the heir apparent to Indiana Jones, Samantha is a witty and wise adventurer, and it feels as though Moke is building towards an eventual greater purpose for her heroine."—Booklist

"Jenny Elder Moke has done it again! Witty banter, ancient mysteries, thrilling action, and a mix of clever and dubious characters will keep you up all night in book two of the Samantha Knox series. A fantastic adventure!"—Jennifer Lynn Alvarez, author of Lies Like Wildfire

"Sam's response to misogyny and classism propels the book's action but also, in the deft hands of the author, provides readers with insights into the complexities of identity, self-awareness, and right action. While never becoming preachy, the book also thoughtfully explores issues related to the ethics of the acquisition and ownership of antiquities...Another satisfying supernatural adventure featuring an intrepid solver of puzzles."—Kirkus Reviews

"Ahead of her time and a force to be reckoned with, Samantha Knox is the female Indiana Jones we've long been waiting for! You haven't lived until you've read a Samantha Knox novel."—Jen Calonita, New York Times best-selling author of the A Twisted Tale series
Disney-Hyperion, 9781368067270, 320pp.
Publication Date: June 7, 2022
About the Author
Jenny Elder Moke is the author of the Samantha Knox series and Hood, a reimagined take on the classic Robin Hood story. She writes young adult fiction in an attempt to recapture the shining infinity of youth. She worked for several years at an independent publisher in Austin, TX, before realizing she would rather write the manuscripts than read them. She is a member of the Texas Writers' League and has studied children's writing with Liz Garton Scanlon. She was a finalist in the Austin Film Festival Fiction Podcast Competition in 2017 for her podcast script, Target. When she is not writing, she's gathering story ideas from her daily adventures with her two irredeemable rapscallions and honing her ninja skills as a black belt in Tae Kwon Do. Jenny lives in Denver with her husband and two children.