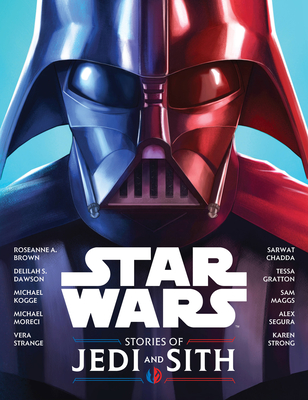 Stories of Jedi and Sith
Hardcover

* Individual store prices may vary.
Description
THE ETERNAL FIGHT BETWEEN GOOD AND EVIL… The brave Jedi vs the devious Sith!

Just in time to celebrate the highly-anticipated re-match between Obi-Wan Kenobi and Darth Vader in the Disney+ forthcoming event Obi-Wan Kenobi, here are ten original stories about the the valiant Jedi and the evil Sith. Larger-than-life characters clash in epic lightsaber battles that will appeal to young readers and to the young Star Wars fan in all of us! Ten acclaimed authors imagine new tales for some of the most iconic Star Wars characters ever, from Luke Skywalker to Darth Vader, from Obi-Wan Kenobi to Darth Maul, and beyond, complete with beautiful spot illustrations

Authors:
Roseanne A. Brown
Sarwat Chadda
Delilah S. Dawson
Tessa Gratton
Michael Kogge
Sam Maggs
Michael Moreci
Alex Segura
Vera Strange
Karen Strong
with illustrations by Jake Bartok


Disney Lucasfilm Press, 9781368080545, 352pp.
Publication Date: June 7, 2022
About the Author
Roseanne A. Brown is the New York Times best-selling author of the YA novel A Song of Wraiths and Ruin.

Sarwat Chadda is the critically-acclaimed author of Rick Riordan Presents: City of the Plague God as well as other middle grade and YA adventures.

Delilah S. Dawson is the New York Times best-selling author of Star Wars novels Phasma and Black Spire.

Tessa Gratton is an acclaimed YA fantasy writer who will be making her Star Wars debut here ahead of joining the writing team on The High Republic.

Michael Kogge is the award-winning author of many Star Wars books, including all three junior novels for the sequel trilogy.

Sam Maggs is the best-selling author of The Unstoppable Wasp and other books for children and teens, as well as video games and comics (including Star Wars Adventures comics).

Michael Moreci is a best-selling author of novels and comics, including serving as head writer for the Star Wars Adventures comic book series.

Alex Segura is the award-winning author of Star Wars: Poe Dameron: Free Fall and other novels and comics.

Vera Strange is the critically acclaimed author of the Disney Chills series.

Karen Strong is the award-winning author of Just South of Home and contributed to the most recent Star Wars: From a Certain Point of View anthology.