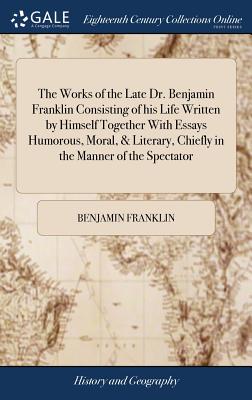 The Works of the Late Dr. Benjamin Franklin Consisting of His Life Written by Himself Together with Essays Humorous, Moral, & Literary, Chiefly in the
Hardcover

* Individual store prices may vary.
Other Editions of This Title:
Paperback (2/1/2012)
Paperback (2/1/2012)
Paperback (2/1/2012)
Paperback (2/1/2012)
Paperback (2/1/2012)
Paperback (2/1/2012)
Paperback (2/1/2012)
Paperback (2/1/2012)
Hardcover (4/23/2016)
Hardcover (5/19/2016)
Hardcover (12/6/2015)
Hardcover (5/20/2016)
Hardcover (8/31/2015)
Hardcover (4/17/2018)
Paperback (2/19/2019)
Paperback (10/30/2018)
Paperback (4/24/2018)
Paperback (9/9/2018)
Description
The 18th century was a wealth of knowledge, exploration and rapidly growing technology and expanding record-keeping made possible by advances in the printing press. In its determination to preserve the century of revolution, Gale initiated a revolution of its own: digitization of epic proportions to preserve these invaluable works in the largest archive of its kind. Now for the first time these high-quality digital copies of original 18th century manuscripts are available in print, making them highly accessible to libraries, undergraduate students, and independent scholars.
Rich in titles on English life and social history, this collection spans the world as it was known to eighteenth-century historians and explorers. Titles include a wealth of travel accounts and diaries, histories of nations from throughout the world, and maps and charts of a world that was still being discovered. Students of the War of American Independence will find fascinating accounts from the British side of conflict.
++++
The below data was compiled from various identification fields in the bibliographic record of this title. This data is provided as an additional tool in helping to insure edition identification:
++++
Library of Congress

W017368

Two volumes in one, each with engraved title page. Volume 1 contains the Life of Franklin, v. 2 the Essays. Edited by Benjamin Vaughan. Preface to v. 1 includes a letter from Richard Price. Pages 108-164 of v. 1 have the continuation of Franklin's Life written by Henry Steuber. Date of publication supplied by Evans. Pagination: v. 1, 1], 6-174 p., 2 leaf of plates; v. 2, 1], 4-139, 5] p., 1 leaf of plates. Frontispiece portrait and title pages engraved by P.R. Maverick. "Extracts from the last will and testament of Dr. Franklin."--v. 1, p. 165-174. Note to the binders, p. 140, regarding folding of signature A of v. 1, and noting the second gathering F of v. 2.

New York: Printed by Tiebout & Obrian for H. Gain, V. Nutter, R. McGill, T. Allen, J, Read, E. Duyckinck, & Co. and Edward Mitchell no. 9, Maiden Lane, 1794]. 2 v.: port.; 8.
Gale Ecco, Print Editions, 9781385436219, 316pp.
Publication Date: April 23, 2018