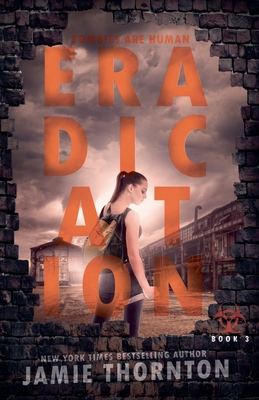 Eradication (Zombies Are Human, Book Three)
Paperback

* Individual store prices may vary.
Description
From New York Times and USA Today bestselling author Jamie Thornton comes the final book in the thrilling science fiction survival series that has readers raving about its dark and gritty thrills.
THE CENTER WILL NOT HOLD.
Three years later, sixteen-year-old Maibe hides from the world, from her mistakes, from her friends. But the double infection that keeps them from becoming V isn't working like it did before.Maibe and her friends are turning.
Then rumors surface of a new cure. A cure that would erase the infections that destroyed the world.
It becomes a deadly race between Feeb and uninfected. Whoever finds the cure will control it--and everyone who needs it.
But Maibe and her friends are running out of time. If she doesn't get the new cure soon, there will be nothing left of her friends to save.
"Thrilling...keeps you reading and wanting more."
"I couldn't put this down."
"This left me hungry for the next book."
Zombies Are Human is a fast, dark apocalyptic ride. Just remember...nothing is what it seems. Get it now.
Jamie Thornton, 9781386368557, 394pp.
Publication Date: March 10, 2017