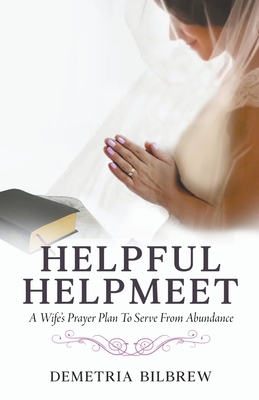 Helpful Helpmeet A Wife's Prayer Plan to Serve From Abundance
Paperback

* Individual store prices may vary.
Description
Solid marriages can create healthy communities, and stronger communities can make a better world. Within the home, the role of the wife is critical. When she is equipped with spiritual tools to serve from a place of fulfillment, she is able to make a tremendous impact on our world today, and in the future.
If you're a wife:
Are you juggling "several" responsibilities?
Is your "To Do" list endless, and is your proverbial "plate" full?
Do you feel exhausted, and is your spiritual vessel depleted?
You more than likely realize that to handle your tasks efficiently, you will need an abundance of energy, and that will take prayer.... lots of prayer.
Good news
Assistance is available for you NOW
"Helpful Helpmeet, A Wife's Prayer Plan to Serve From Abundance" will guide you to create a prayer plan for YOUR life as a wife.
After working through this journal, you will:
- Experience 40 days of self-reflection and clarity
- Create "Victory Confessions" to declare over your marriage and yourself
- Chart a custom prayer plan based on your devotion time
Get this journal today to approach your role in a new, uplifting way
Draft2digital, 9781386547372, 244pp.
Publication Date: May 18, 2020