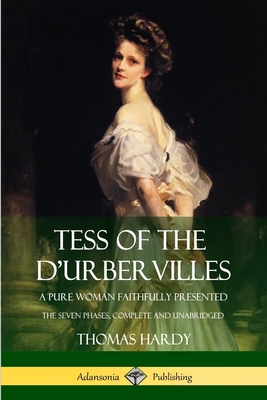 Tess of the d'Urbervilles
A Pure Woman Faithfully Presented; The Seven Phases, Complete and Unabridged
Paperback

* Individual store prices may vary.
Other Editions of This Title:
Paperback (10/10/2018)
Paperback (2/26/2020)
Paperback (11/17/2013)
Paperback (1/3/2020)
Paperback (7/15/2020)
Paperback (1/1/2014)
Paperback (1/9/2021)
Paperback (1/9/2021)
Paperback (3/10/2020)
Paperback (12/9/2019)
Paperback (2/24/2016)
Paperback (1/8/2013)
Paperback (4/4/2010)
Paperback (9/26/2019)
Paperback (1/30/2021)
Description
Hardy's dramatic and controversial novel Tess of the d'Urbervilles is considered by literary scholars to be his life's masterwork. Set within Hardy's fictional county of Wessex in the 1870s, the narrative tells the life's story of Tess Durbeyfield. Her loss of innocence as she begins associating with Alec, a man devoid of moral conscience. Finding herself pregnant after it is implied Alec rapes her, Tess is forced to quickly mature and confront life's troubles. The standards by which Tess are held for losing her virginity prior to marriage is Hardy's example of a double standard: despite her tragedies, the author believed his protagonist to be a truly good person. Over the lengthy novel's seven parts, named 'phases', we witness the different lines of work and people Tess meets. The novel is vivid in describing country life, and the various class distinctions which were definitive of Victorian culture.
Lulu.com, 9781387873234, 260pp.
Publication Date: June 11, 2018