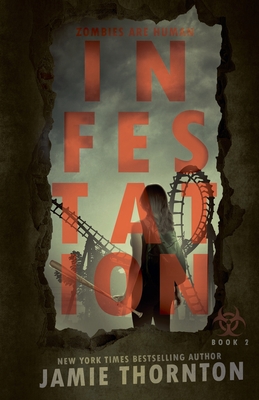 Infestation (Zombies Are Human, Book Two)
Paperback

* Individual store prices may vary.
Description
From New York Times and USA Today bestselling author Jamie Thornton.
STAY ALIVE. DON'T GET BIT.
For sixteen-year-old Gabbi, life on the street isn't much different after a virus sweeps away civilization: watch your back, do anything to survive, protect your friends.
But Gabbi's friends are imprisoned at a refugee camp and every move she makes puts them in more danger. Gabbi will do everything to keep her friends alive, but what if everything isn't enough?
The stakes are bigger than Gabbi could imagine, pitting Feeb against Feeb, with uninfected and Vs against them all. If Gabbi doesn't outsmart everyone, she'll get her and her friends caught--again.This time they won't all make it out alive.
"...This isn't the boxcar children covered with a veneer of wholesomeness. These street kids know how to survive on the streets, and it isn't always pretty... heart-stopping and horrific...." ★ ★ ★ ★ ★
"Where do I even start? I guess here: it's refreshing to finally read a disease-centred apocalyptic story that feels real... cannot wait to see what happens next...." ★ ★ ★ ★ ★
If you like anything (or most things) with quickly-spreading viruses, zombies, realistic teenaged characters, learning how homeless kids get by on the street, action, and strong loyalty...an intriguing, cannot-put-it-down tale...." ★ ★ ★ ★ ★
"The first book left me hungry for the next one..." ★ ★ ★ ★ ★
"This book was bad@sss..." ★ ★ ★ ★ ★
Smart. Dangerous. Gritty. With rip-your-heart-out intensity (literally and figuratively in some cases). Get it now.
Jamie Thornton, 9781393457596, 324pp.
Publication Date: March 10, 2017