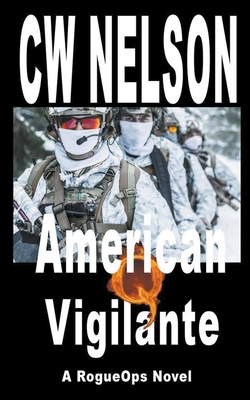 American Vigilante
Paperback

* Individual store prices may vary.
Description
RogueOps deploy high tech specialists into the killing fields of international intrigue. Military assassins and snipers airlift across the globe on Hawke's Gulfstream jets, Sikorsky helicopters and PBY amphibians. Intercept teams set sail on his 214-foot weaponized, tactical sailing yachts.
Target 1 ///
Hunt down a lost Nazi bunker. RogueOps received Intel that it contains financial 'blueprints' that can take down every banking institution on the planet. RogueOps race across the South Pacific to intercept a bandit Israeli faction before they find it.
Target 2 ///
Intercept a key player in international narcotics, mercenary deployment and White sex trafficking. RogueOps must rescue fourteen innocent Aryan girls 12 to 14 years old. Alfonso Urraca holds them captive in Paraguay.
Itinerary: Finance a military invasion. Target: United States of America.
RogueOps deploy seven specialists, two MilSpec helicopters and a PBY amphibian on a two-prong mission.
Prong 1 ///-Rescue the kidnapped girls
Prong 2 ///-Destroy Alfonso Urraca's international headquarters and intercept 74.6 billion U.S. dollar in wire transfers. The invasion war chest slated for the communist regimes of Venezuela, Honduras, Guatemala and Mexico.
Target 3 ///
Mission: Engage air strikes against five Mexican Cartel headquarters from Tijuana to Oaxaca. Destroy the world's largest joint military firearms and narcotics trafficking operation.
RogueOps leave trails of blood and destruction from the South Pacific to the Azores. From the jungles of Paraguay, Venezuela and into Mexico. //Trails collide when
///-Vigilante justice, bullets and guts worked in the Old West. It works in this bloodstained war against America.
Cw Nelson, 9781393995685, 614pp.
Publication Date: April 4, 2020