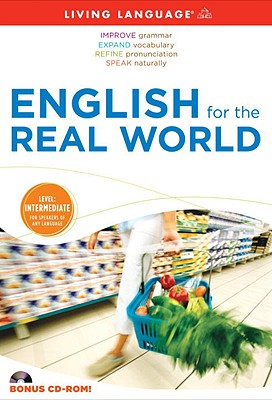 English for the Real World: Level: Intermediate, for Speakers of Any Language [With CDROM and Paperback Book] (Compact Disc)
Level: Intermediate, for Speakers of Any Language [With CDROM and Paperback Book]
Living Language, 9781400006038, 224pp.
Publication Date: September 8, 2009
Description
Reach your life goals with English for the Real World. Learn English now. English for the Real World teaches English as it's really spoken in practical situations and day-to-day life. This language course includes a book and three 60-minute CDs that work together to boost conversational speech and listening comprehension skills. The book features realistic English dialogues, thorough explanations of English grammar that go beyond the basics, and English vocabulary sections that include the most commonly used idiomatic expressions. Plenty of exercises, both in the book and on the recordings, will help you improve your English today. English for the Real World also includes a flashcard CD-ROM that gives you the chance to learn and practice common idiomatic expressions -- a multi-media approach to English language practice that improves retention.

About the Author
Living Language has been a proven and effective language learning instruction for over 65 years. Using techniques originally developed for the US State Department, the Living Language Method follows a four point approach from building a foundation of essential words and phrases, advancing to full sentences and conversations, practicing with recall exercises aimed at both short and long term memory and developing practical language skills to equip the learner in any situation. Living Language is an imprint of Random House LLC, a Penguin Random House Company.
Advertisement