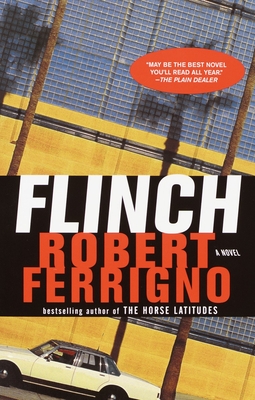 Flinch (Paperback)
Vintage Crime/Black Lizard, 9781400030248, 320pp.
Publication Date: January 7, 2003
* Individual store prices may vary.
or
Not Currently Available for Direct Purchase
Description
Frightening, feral, and funny, Flinch is a fast-paced noir set amid the frenzied freak show of Southern California. Tabloid journalist Jimmy Gage and his plastic-surgeon brother, Jonathan, have long had a twisted and sometimes nearly fatal rivalry, but the ante was upped when Jonathan recently married Jimmy's ex. So when Jimmy begins to suspect that Jonathan is the serial killer known as The Eggman, he's neither surprised nor displeased. What ensues is this harried and hard-edged whodunnit that involves everything from petty porn stars to WWF wannabes to gut-wrenchingly gruesome gangsters and gang lords. Flinch is an intricately plotted whirlwind of a tale that will grip you until the very last page.
About the Author
Robert Ferrigno is the author of seven novels, including The Horse Latitudes and, most recently, Scavenger Hunt. He lives with his family in the Pacific Northwest.
Praise For Flinch…
"May be the best novel you'll read all year. . . . Miss this novel at your peril." -The Plain Dealer

"This is a world like no other. If you savor the bizarre, this one's for you." —The Washington Post Book World

"What is distinctive about Ferrigno's gripping action is that it is often set in a natural world whose appeal he makes the reader vividly feel." -The New York Times

"Like other inheritors of the Hammett-Chandler-Ross MacDonald private-eye tradition, Ferrigno balances the tough doings with a strong sense of moral outrage and compassion." -Los Angeles Times Book Review

"Readers familiar with Ferrigno's work in The Horse Latitudes and Heartbreaker may have thought they had experienced the best of Ferrigno, but Flinch ups the ante several notches." –The Seattle Times

"So adroit is Ferrigno's carefully layered plot . . . even careful readers may overlook Ferrigno's elegant but muscular prose style." –The News & Observer

"A grand read, neatly plotted with fascinating characters speaking great lines. . . . From start to finish, the reader's mind must race at a frantic pace to keep up with the twists and turns." –Winston-Salem Journal

"Ferrigno belongs to a group of first-rate authors who have kept the noir tradition alive by showing the dark side of sunny Southern California. He does it, though, from the hip and with a thoroughly modern perspective." –Rocky Mountain News

"Hugely entertaining. . . . There are enough simmering subplots in this yarn to provide surprises around every corner. Ferrigno provides snappy dialogue, fast-paced action, flashy context and intriguing subtext." –The Olympian

"A carnival-ride thriller of contemporary California noir by a criminally overlooked writer. . . . Addictive." –The Dallas Morning News

"Perfectly entertaining." –Arizona Daily Star
Advertisement