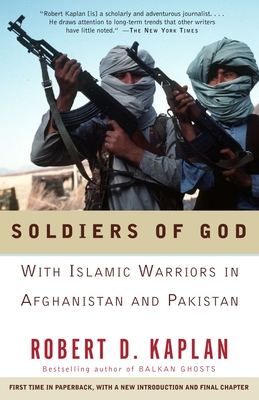 Soldiers of God
With Islamic Warriors in Afghanistan and Pakistan (Vintage Departures)
Paperback

* Individual store prices may vary.
Other Editions of This Title:
Digital Audiobook (3/21/2022)
Description
First time in paperback, with a new Introduction and final chapter

World affairs expert and intrepid travel journalist Robert D. Kaplan braved the dangers of war-ravaged Afghanistan in the 1980s, living among the mujahidin—the "soldiers of god"—whose unwavering devotion to Islam fueled their mission to oust the formidable Soviet invaders. In Soldiers of God we follow Kaplan's extraordinary journey and learn how the thwarted Soviet invasion gave rise to the ruthless Taliban and the defining international conflagration of the twenty-first century.

Kaplan returns a decade later and brings to life a lawless frontier. What he reveals is astonishing: teeming refugee camps on the deeply contentious Pakistan-Afghanistan border; a war front that combines primitive fighters with the most technologically advanced weapons known to man; rigorous Islamic indoctrination academies; a land of minefields plagued by drought, fierce tribalism, insurmountable ethnic and religious divisions, an abysmal literacy rate, and legions of war orphans who seek stability in military brotherhood. Traveling alongside Islamic guerrilla fighters, sharing their food, observing their piety in the face of deprivation, and witnessing their determination, Kaplan offers a unique opportunity to increase our understanding of a people and a country that are at the center of world events.
Praise For Soldiers of God: With Islamic Warriors in Afghanistan and Pakistan (Vintage Departures)…
"Robert Kaplan [is] a scholarly and adventurous journalist. . . . He draws attention to long-term trends that other writers have little noted." —The New York Times

"Soldiers of God is a thoughtful, insightful, highly readable book. Battlefield smart, rock solid." —Dan Rather

"Affecting and informative. . . . [Kaplan] answer[s] a number of important political questions." —The New Yorker

"[A] first-rate account. . . . [Kaplan's] combination of firsthand war experience inside Afghanistan and extensive reporting . . . makes him sensitive to distinctions that often escaped even devoted promoters of the muj[ahidin]." —The Wall Street Journal
Vintage, 9781400030255, 304pp.
Publication Date: November 27, 2001
About the Author
Robert D. Kaplan is the bestselling author of sixteen books on foreign affairs and travel translated into many languages, including Asia's Cauldron, The Revenge of Geography, Monsoon, The Coming Anarchy, and Balkan Ghosts. He is a senior fellow at the Center for a New American Security and a contributing editor at The Atlantic, where his work has appeared for three decades. He was chief geopolitical analyst at Stratfor, a visiting professor at the United States Naval Academy, and a member of the Pentagon's Defense Policy Board. Foreign Policy magazine has twice named him one of the world's Top 100 Global Thinkers.