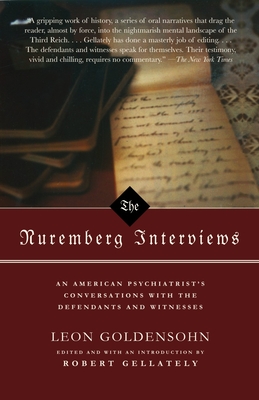 The Nuremberg Interviews: An American Psychiatrist's Conversations with the Defendants and Witnesses (Paperback)
An American Psychiatrist's Conversations with the Defendants and Witnesses
Vintage Books USA, 9781400030439, 490pp.
Publication Date: October 25, 2005
Description
During the Nuremberg trials, Leon Goldensohn--a U.S. Army psychiatrist--monitored the mental health of two dozen Germans leaders charged with carrying out genocide. These recorded conversations went largely unexamined for more than fifty years, until Robert Gellately--one of the premier historians of Nazi Germany--made them available to the public in this remarkable collection.
Here are interviews with the likes of Hans Frank, Hermann Goering, Ernst Kaltenbrunner, and Joachim von Ribbentrop--the highest ranking Nazi officials in the Nuremberg jails. Here too are interviews with lesser-known officials essential to the inner workings of the Third Reich. Candid and often shockingly truthful,
The Nuremberg Interviews
is a profound addition to our understanding of the Nazi mind and mission.
About the Author
Dr. Leon Goldensohn was an American physician and psychiatrist who joined the U.S. Army in 1943 and was posted to France and Germany. He died in 1961. Robert Gellately is the Earl Ray Beck Professor of History at Florida State University and recently was the Bertelsmann Visiting Professor of Twentieth Century Jewish Politics and History at Oxford University. He is the author of The Gestapo and German Society: Enforcing Racial Policy, 1933--1945 and Backing Hitler: Consent and Coercion in Nazi Germany. He was born in St. John's, Newfoundland and lives in Tallahassee, Florida.
Praise For The Nuremberg Interviews: An American Psychiatrist's Conversations with the Defendants and Witnesses…
"A gripping work of history, a series of oral narratives that drag the reader, almost by force, into the nightmarish mental landscape of the Third Reich." –The New York Times

"A rare documentÉstriking proof of the banality of evil."–Kirkus

"Goldensohn serves as a down-to-earth Dante in these anterooms to hell, getting one damned soul after another to reveal himself in his own words." –Newsweek
Advertisement