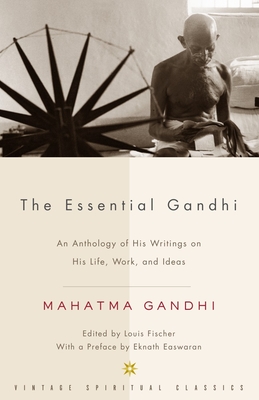 The Essential Gandhi (Paperback)
An Anthology of His Writings on His Life, Work, and Ideas
Vintage, 9781400030507, 368pp.
Publication Date: November 12, 2002
* Individual store prices may vary.
Description
Mohandas K. Gandhi, called Mahatma ("great soul"), was the father of modern India, but his influence has spread well beyond the subcontinent and is as important today as it was in the first part of the twentieth century and during this nation's own civil rights movement. Taken from Gandhi's writings throughout his life, The Essential Gandhi introduces us to his thoughts on politics, spirituality, poverty, suffering, love, non-violence, civil disobedience, and his own life. The pieces collected here, with explanatory head notes by Gandhi biographer Louis Fischer, offer the clearest, most thorough portrait of one of the greatest spiritual leaders the world has known.
"Gandhi was inevitable. If humanity is to progress, Gandhi is inescapable. . . . We may ignore him at our own risk." –Dr. Martin Luther King, Jr.

With a new Preface drawn from the writings of Eknath Easwaran

In the annals of spirituality certain books stand out both for their historical importance and for their continued relevance. The Vintage Spiritual Classics series offers the greatest of these works in authoritative new editions, with specially commissioned essays by noted contemporary commentators. Filled with eloquence and fresh insight, encouragement and solace, Vintage Spiritual Classics are incomparable resources for all readers who seek a more substantive understanding of mankind's relation to the divine.
About the Author
Mohandas Karamchand Gandhi, also known as Mahatma Gandhi, was a major political and spiritual leader of India and the Indian Independence movement. Born in 1869 in British India, he was the pioneer of Satyagraha—a philosophy that is concerned with truth and resistance to evil through active, non-violent resistance. He led India to independence from Britain and inspired movements for freedom and civil rights around the world. Gandhi lived a simple life, organizing an ashram that was self sufficient and even made his own clothes. He lived on a vegetarian diet and later on a fruitarian diet. He often underwent long fasts, for both self purification and for protest.He was assassinated in 1948 in New Delhi, India.
Praise For The Essential Gandhi: An Anthology of His Writings on His Life, Work, and Ideas…
"Gandhi believed in revealing himself. He regarded secrecy as the enemy of freedom-not only the freedom of India but the freedom of man. He exposed even the innermost personal thoughts which individuals usually regard as private. In nearly a half-century of prolific writing, speaking, and subjecting his ideas to the test of actions, he painted a detailed self-portrait of his mind, heart, and soul.

"Gandhi was a unique person, a great person, perhaps the greatest figure of the last nineteen hundred years. And his words have been preserved as they came from his mouth and pen."

-- Louis Fischer